Hansel And Gretel: Witch Hunters 2 Might Actually Be Happening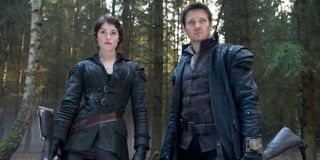 Hansel & Gretel: Witch Hunters had some seriously mixed reactions from its viewership. There were horror-comedy fans out there, who absolutely adored it, while on the polar opposite side, many critics called it a flop. Either way, talk about a sequel has been going on since the first film's release in 2013. Last year, word came out that we'd be seeing a Hansel & Gretel: Witch Hunters 2 hitting theaters sometime in 2016, but a couple months later, the project took a huge blow when filmmaker Tommy Wirkola walked away from the sequel. Now, word on the block is that the sequel is back on with a new helmer at the lead, French director Bruno Aveillan.
The news is still currently being treated as rumor as The Tracking Board is claiming to have exclusive info from a source close to the project. According to the publication, Paramount is looking to add some more excitement to the franchise, and is currently searching for a new writer to pen the Jeremy Renner and Gemma Arterton sequel. But, they have apparently added the renowned director Bruno Aveillan to the project, and the sequel is moving forward. No further plot details have been shared, but it will continue to follow-up with the witch-hunting brother/sister duo, most likely going up against an even greater threat. The studio apparently wants a rewrite pumping up the excitement in Tommy Wirkola's script, so we can't be sure how different it will be than the original helmer's intention.
Bruno Aveillan seems like an odd choice to attach to the comedy-horror franchise. The renowned director no doubt has a hefty creative resume, but is far more recognized for his experimental art/directing, and work in the fashion industry as well as with many established international stars on commercials and advertisements. Aveillan was originally set to break into the studio feature world with a Universal fairy tale spin. The Cinderella feature, with a script written by Ann Peacock (writer of The Lion, The Witch And The Wardrobe screenplay) didn't move forward. Now it sounds like he may be getting another shot in the fairy tale film genre which happens to be increasingly popular these days.
Though there's no official statement that the stars will return, last time we chatted with Jeremy Renner several months back, he implied that there would definitely be a sequel to the witch hunting adventure but he was not signed on with the project, implying that they were probably just waiting for the script to be written to reach out to the stars. If the latest news proves to be true, the ordered rewrite should hopefully be done in due time, and while we aren't looking at the 2016 release date previously promised, at least things are moving forward. It sure will be interesting to see what this prominent artist's take on the supernatural duo will be, especially as his feature film debut.
Your Daily Blend of Entertainment News
Thank you for signing up to CinemaBlend. You will receive a verification email shortly.
There was a problem. Please refresh the page and try again.