Hot Tub Time Machine 2 Had A Hysterical Title Until The Studio Changed It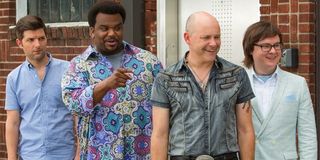 The comedy sequel Hot Tub Time Machine 2 will be heading into theaters tomorrow to try and hold its own again the Fifty Shades of Grey-dominated box office. However, what you may not know is that there was an original plan to give the film a less-upfront, more intellectually conceptual title, which may have had potential moviegoers scratching their heads…in a good way. What, may you ask, was this amazing, artsy avant-garde title? Hot Tub Time Machine 3.
During a red carpet premiere interview with USA Today, Hot Tub Time Machine 2 supporting actor Jason Jones revealed that the time-bending, unruly, crass comedic romp originally carried the more meta-minded title of Hot Tub Time Machine 3. Of course, the joke here is that part 2 would not actually exist, playing into the movie's themes of mucking up timelines. Apparently, though, it was not a gag that had the executives over at Paramount Pictures laughing. Jones told the newspaper,
It does seem to be a missed opportunity for the film to take a sorta self-deprecating titular jab in a similar method to the one used by the 1987 comedic box-office bomb, Leonard Part 6, starring a former Jell-O-plugging sweater connoisseur, whose purported prurient activities currently have him going by the title, "He Who Must Not Be Named." However, while the second film's former title of Hot Tub Time Machine 3 might have raised some smirks from people who appreciate elaborately formed jokes, the logistical fears of the studio were probably warranted, as it could have potentially turned the film into an extremely expensive high-brow joke.
Speaking about the movie's proposed title with the newspaper, Hot Tub Time Machine 2 star Clark Duke added that a détente was eventually reached regarding the clever and potentially confusing title, though he also added that plans to move forward with the Hot Tub Time Machine 3 idea also includes thoughts about trolling moviegoers in promotional materials. He explained,
While the title was a good idea, it was clearly in the film's financial interest to not try to transcend time and space to reinvent the wheel. For now, the film has bigger fish to fry than lost opportunities; namely that it heads into a rather difficult box-office landscape in which Fifty Shades of Grey is currently riding a high wave of BDSM buzz.
While the film clearly differentiates itself from Fifty Shades of Grey genre-wise, it could end up becoming an afterthought, due to not only that headline-making momentum, but possible "been there, done that" attitudes about this comedic sequel. Additionally, there may be some stiff competition in the form of the male-driven comic book movie Kingsman: The Secret Service, which did a rather surprising job holding its own against Fifty Shades last week. However, besides its freakish abilities for prognostication, HTTM2 can grasp the silver lining that it is the most high profile new release this weekend, amongst lesser-known pictures like The DUFF and McFarland, USA.
Hot Tub Time Machine 2 will be swirling its way to theaters with a boring, but accurate title starting tomorrow, February 20th.
Your Daily Blend of Entertainment News