Hugh Jackman Is Going To Play Jesus' Biggest Fan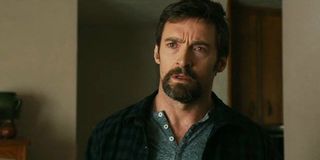 Warner Bros.' new religious epic Apostle Paul has found its leading man in the shape of Hugh Jackman, with the Australian set to take on the titular biblical role (a.k.a. Saul of Tarsus). Jackman will work as a producer on the project too, a position he will share with both Ben Affleck and Matt Damon.
According to Deadline, Jennifer Todd and Chris Clarke will join this trifecta of bona-fide acting titans as producers on Apostle Paul. Clarke and Todd have been instrumental in bringing the film to the big-screen, which they hope will match the box office of other recent religious features such as Noah, Exodus: Gods And Kings, God's Not Dead, Son Of God and The Passion of the Christ. Meanwhile Matt Cook has been given the duty of writing the script.
Apostle Paul will see Jackman star in the role of the Jewish man of God who preached the word of Jesus Christ to both Jewish and Roman audiences. Paul was credited with writing 14 books of the New Testament, and his frequent trips to Rome to speak before rulers resulted in him being one of the most important messengers of Jesus.
Paul, who wasn't one of the 12 original disciples, is even said to have met Jesus Christ. This occurred while he was traveling from Jerusalem to Damascus, during which he was blinded by a great, white light. Paul would eventually regain his sight after Ananias prayed for him. There are a variety of potential scenes from Paul's life that would perfectly compliment Apostle Paul as a film.
After converting to Christianity, Paul repeatedly preached the word of God and tried to spread the word of Christ. When he was imprisoned for his efforts, and while wrapped up in chains, Paul continued to speak about and praise Jesus. But then a miracle occurred as the prison began to shake as a violent earthquake enveloped the area, then his chains broke off, the jail doors opened, frightened prison guards fled, and Paul was able to leave.
Apostle Paul sounds as if it is shaping up very nicely. Not only are the Oscar-winning minds of Ben Affleck and Matt Damon deeply involved in the film's development, but Hugh Jackman also has the innate ability to wrap his larger than life personality and elevate even the most bombastic of characters. He's done that previously with Wolverine over seven instalments of the X-Men franchise, Van Helsing, Jean Valljean, and he'll almost do so again when he portrays Blackbeard in the upcoming Pan.
Meanwhile, Warner Bros. have also hired one of the most in-demand screenwriters of the moment in Matt Cook to scribe the film. Not only has he recently scribed Triple 9, the latest from John Hillcoat (The Proposition, The Road, Lawless), but he's also written the impending efforts By Way Of Helena (which will be led by Liam Hemsworth, Woody Harrelson, and William Hurt), the recently announced Three Seconds (starring Luke Evans); and Joe Petrosino.
However, as always, the success of the film will mostly be down to Apostle Paul's choice of director. And with so many prestigious creative talents already on board, they're certain to have a number of illustrious filmmaker at their beck and call to take over the project.
Your Daily Blend of Entertainment News
Your Daily Blend of Entertainment News
Thank you for signing up to CinemaBlend. You will receive a verification email shortly.
There was a problem. Please refresh the page and try again.