Jennifer Aniston Attached To Dramedy Miss You Already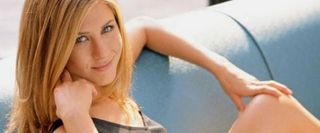 Jennifer Aniston has spent the past three years appearing in comedic pictures for better (Horrible Bosses) or worse (Just Go With It), but she could be bringing this solely silly streak to a close with Miss You Already, a dramedy that's currently being sold around the European Film Market. Aniston is reportedly attached to star in the film that follows the decay of two life-long friends' relationship following one's pregnancy and the other's illness. The film's executive producer, Samantha Horley of The Salt Company, described it to Deadline as:
Details are scarce beyond this terse description, and there's no promise of who would co-star with Aniston, only that casting is now underway. However, we do know that writer-director Paul Andrew Williams, best-known for the crime thriller London to Brighton, is set to helm the script he co-wrote with British actress and scribe Morwenna Banks (Skins, Saxondale). But while Banks' performance-heavy work history might suggest she's up for the role of Aniston's friend, there's no mention of it in Miss You Already's sales pitch. This could mean the producers are hoping to secure another A-lister to draw their dramedy major notice on the international market.
This could prove an interesting move for Aniston, who's been criticized for her string of broad comedies. Here she could prove her dramatic chops once more and secure her staple of chick-flick-loving fans with a satisfying tearjerker. In the meantime, Aniston can be seen opposite her The Object of My Affection co-star Paul Rudd in the upcoming Wanderlust, wherein she plays a Manhattanite who discovers a simpler life in a Georgia commune. Check out the latest clip here.
Staff writer at CinemaBlend.
Your Daily Blend of Entertainment News
Thank you for signing up to CinemaBlend. You will receive a verification email shortly.
There was a problem. Please refresh the page and try again.