Jennifer Lawrence And Chris Pratt's Passengers Adding Another Stellar Co-Star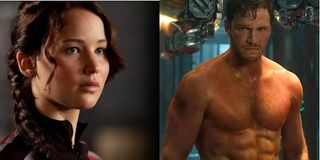 When you put two high profile, hot-as-all-hell actors like Jennifer Lawrence and Chris Pratt together in a movie, that's going to get some attention. Which is just what has happened with their upcoming sci-fi romance, Passengers. And not only does it have two big, A-list celebs leading the way, the film is putting together an impressive supporting cast, including the latest addition, Morpheus himself, Laurence Fishburne.
According to The Hollywood Reporter, the veteran actor who has appeared in everything from Apocalypse Now to Hannibal to the upcoming Batman v Superman: Dawn of Justice, is in talks to join Passengers. Along with Pratt and Lawrence, Fishburne joins another recent addition, Michael Sheen, who plays a robot on a spaceship. What we don't know, however, is what role Fishburne will play, as the report doesn't offer much in the way of details.
The story of Passengers seems pretty simple, at least on the surface. Set on a spaceship bound for a distant planet, a group of travellers snooze away the time in cryogenic sleep due to the long-distance nature of their trek. Thousands of settlers intend to colonize a new world, but there's a bit of a snag for one passenger (Pratt), who wakes up mid-trip. Still 90 years from their destination, he'll be long dead before anyone else will be awake to notice. I'm not exactly sure why at this point, but he doesn't want to be alone, so he wakes up a female passenger (Lawrence). If that seems like a jerk thing to do, you're not the only one to have that reaction, but even though she likely has mixed emotions on the matter, an unlikely romance blossoms.
These two crazy kids are apparently not as completely alone as this description may lead you to believe, however. They've got the robot to keep them company, and with Laurence Fishburne joining the party, it's starting to get a wee bit crowded out there in deep space.
Pre-production on Passengers is rolling now, especially after an early salary dispute was settled (Jennifer Lawrence will earn a staggering $20 million for her role, plus a percentage of the profits, while Chris Pratt will walk away $12 million richer), but it took a while to get here. Keanu Reeves was originally going to play the male lead, while both Reese Witherspoon then Rachel McAdams were on tap to take the female lead at various points.
There's some big Hollywood power behind the scenes on Passengers, too. Morten Tyldum is set to direct, fresh off the Oscar-winning The Imitation Game with Benedict Cumberbatch. John Spaihts, the man behind Marvel's upcoming Doctor Strange (also with Cumberbatch), as well as Prometheus and others, handled the script.
Sony recently set a release date for Passengers, and we can expect to see it in theaters on December 21, 2016. Sony must have some faith in the picture, as it will have to contend with the presence of Star Wars: Rogue One, which opens December 16, 2016.
Your Daily Blend of Entertainment News