The Legend Of Tarzan: What We Know So Far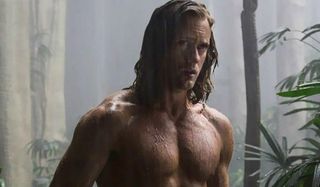 With a rich history that's now over 100-years-old, and, according to IMDB, over 200 movies with Tarzan in the title, it's little surprise that Warner Bros. has decided to throw $180 million behind another reboot of the character with The Legend Of Tarzan.
Obviously, the studio has rather high hopes for The Legend Of Tarzan as they're releasing it in the height of the summer blockbuster season. They're hedging their bets that it will be able to swing from vine to vine for several weeks and not only amass a healthy box office return, but will also kick start a brand-new franchise that will prove to be very, very lucrative.
All of that was thrown into a bit of chaos just a couple of months ago when rumors emerged that Warner Bros. wasn't completely happy with what The Legend Of Tarzan's production had left them with. This issue wasn't helped by the revelation that director David Yates had moved onto Fantastic Beasts And Where To Find Them just after The Legend Of Tarzan's post-production had begun.
But all of these problems dissipated with the release of the stunning first trailer for The Legend Of Tarzan, which suggested that the blockbuster will be a moody, thrilling, and action-packed waltz through the jungle and a modern examination of the titular character and his doting wife Jane.
But what else do you need to know about The Legend Of Tarzan? Well, luckily, you can have a look through our handy guide below to learn about the blockbuster, which could be the surprise hit of the summer.
What Is The Legend of Tarzan Release Date?
Movie fans need to get really excited, because the end of June and July in 2016 possesses a genuine feast of cinematic delights for those of us that like visiting the multiplexes. Not only is there Finding Dory, Central Intelligence, Independence Day Resurgence, Ghostbusters, Star Trek Beyond and Jason Bourne within the space of a few short weeks, but over the same weekend we'll have to make the impossible decision of whether to take in The Legend Of Tarzan or Steven Spielberg's take on Roald Dahl's The BFG. While moviegoers will adore having this option, the respective studios (Warner Bros. for The Legend Of Tarzan and Disney for The BFG) will be well aware that they have a battle on their hands to dominate the oh so important opening weekend. Unfortunately for The Legend Of Tarzan, their task to topple The BFG is a big ask. As the most popular mainstream director in the history of cinema, Steven Spielberg has built up a sturdy reputation that means every new release from him is met with an immediate intrigue from audiences. In fact, the last Spielberg film to approach anything near to a flop was 1997's Amistad, which grossed just $44.2 million from a $36 million budget. But, with Steven Spielberg making a special effects driven, big-budgeted action adventure for all the family, that is based on an established novel from one of the most beloved writers of recent memory, it's hard to see how The BFG will fail. The Legend Of Tarzan's only chance of eclipsing it will be if it's met with an impressive critical response. But, if that doesn't happen, it could gust out of cinemas just as quickly as it entered them.
What Is The Legend of Tarzan Rating?
From the looks of the footage released so far, The Legend of Tarzan will be a pretty intense film. And yet, the filmmakers have managed to make the movie one that a large audience will be able to see without too much trouble. The film has currently gained a PG-13 rating, and since the movie comes out in just a couple of months, it's unlikely that any editing will be done that would change that to an R rating. So, as long as your young teens are accompanied by an adult, they should be fine audience members for this action/adventure film.
What Is The Legend of Tarzan Story?
Rather than starting at the origins of Tarzan in the jungle and working forward in a linear fashion, writers Adam Cozad & Craig Brewer and director David Yates have decided to begin The Legend Of Tarzan with Alexander Skarsgård's titular character as John Clayton III, Lord Greystoke. In fact, according to the synopsis for The Legend Of Tarzan, it has been years since Lord Greystoke lived in the jungles of Africa. Instead, he has since become gentrified and he now has a nice, casual life alongside his wife Jane Porter (Margot Robbie) in England. But it wouldn't be a Tarzan film if we didn't see our muscle-bound hero amongst the green and gorillas. And after being invited back to the Congo to serve as a trade emissary for the British Parliament, Lord Greystoke is thrust back into the life he left behind and begins to turn back into Tarzan. He's a pawn in a deadly convergence of greed and revenge that has been orchestrated by Christoph Waltz's Captain Leon Rom, a sneaky Belgian. The first trailer for The Legend Of Tarzan suggests that most of the action is going to take place in the jungle, with its plot also seemingly revolving around the myth of the man that has built up since Lord Greystoke moved to England. Which was probably pretty obvious from the film's title.
The Writers
Warner Bros. has been plotting a Tarzan reboot since back in 2003. John August tried to bring to life a modern-day big-budgeted adaptation, while Guillermo del Toro, John Collee, Stephen Sommers, and Stuart Beattie each worked on different variations that were inspired by Pirates Of The Caribbean and would incorporate parkour and high-energy action. Finally though, Warner Bros. decided to hire two writers, Craig Brewer and Adam Cozad, to write separate drafts for The Legend Of Tarzan, which have now seemingly been merged together. This is also a ploy that Warner Bros. used for Wonder Woman. Out of this writing team, Craig Brewer has found the most success, having previously written and directed Hustle & Flow, Black Snake Moan, and Footloose. Meanwhile, Adam Cozad is hardly a novice to the screenwriting game, with his previous screen-credit coming in the shape of 2014's Jack Ryan: Shadow Recruit. Obviously it's impossible to know if this approach will produce cinematic gold, or an uneven and truncated final product. That's why the appointment of the perfect director was key. Luckily Warner Bros. got someone who has been there, done that, and got the t-shirt straight from the Hogwarts megastore.
The Director
More than any other, Warner Bros. is famously a studio that likes to maintain their working relationships with writers and directors. So, when they were after a mainstream director to oversee their Tarzan reboot and, hopefully, the first installment of many in the franchise, it was hardly surprising that they turned to David Yates. Yates reportedly beat The Hunger Games' Gary Ross and Nanny McPhee and the Big Bang's Susanna White to claim the job, and you can imagine that his main selling point was his work directing the final four Harry Potter films, The Order Of The Phoenix, The Half-Blood Prince, The Deathly Hallows – Part 1 and Part 2. David Yates' role in stabilizing the Harry Potter franchise and building it to a rousing conclusion, while at the same time bringing a solid tone and getting increasingly impressive performances from Daniel Radcliffe, Emma Watson and Rupert Grint, often goes unmentioned. But Warner Bros.' decision to have him oversee both The Legend Of Tarzan and the Harry Potter prequel Fantastic Beasts And Where To Find Them is proof that they noticed. The first trailer for The Legend Of Tarzan teases that David Yates has only grown more confident with his action set-pieces and set-ups. While Fantastic Beasts And Where To Find Them doesn't look half-bad, either.
Tarzan
Alexander Skarsgård has been tasked with playing the titular character in David Yates' new incarnation of Tarzan, with the 39-year-old True Blood and Generation Kill actor beating out the likes of Tom Hardy, Henry Cavill, and Charlie Hunnam to take the part. Rather alarmingly, there was previously a rumor that Olympic swimmer Michael Phelps was going to dive head first into a cinematic career with the role, but that, thankfully, proved to be unfounded. There was actually precedent for such a casting, though, as Olympic swimmer Johnny Weissmuller played Tarzan in over 12 films between 1932 and 1948. Despite the past, thankfully Warner Bros. recognized that an actual actor was needed for the part, and the Swede soon set out on a rigorous four month training regiment to get his body in tip-top shape. Talking about his version of Tarzan, Alexander Skarsgård explained to USA Today (opens in new tab):
Obviously, since most of his career has been spent working in television, there are still some concerns over his leading man credentials. But, there's no denying that he certainly looks the part.
Jane Porter
What makes Margot Robbie's meteoric rise to becoming a bona-fide Hollywood leading lady remarkable is just how at home the 25-year-old Australian looks as an A-lister. Possessing a beauty that in previous centuries would have led countries to go to war, with The Wolf Of Wall Street and Focus Margot Robbie went toe-to-toe with Leonardo DiCaprio and Will Smith, respectively, and effortlessly rose to the occasion. That's only the beginning though, and 2016 is set to be the year that she reinforces her credentials. Of course there's her performance as Harley Quinn in Warner Bros.' other rather huge summer blockbuster Suicide Squad, but, with Tarzan's wife Jane Porter in The Legend of Tarzan, Margot Robbie is playing a character that's equally as iconic in pop culture history. Yet, there are absolutely no concerns that she won't do the character justice. Director David Yates previously promised that Margot Robbie's Jane Porter is far from a "passive partner to Tarzan" before adding:
In fact, a merging of her old-school glamour and beauty, with a modern toughness and complexity that was previously missing from Jane, is perfectly suited to both the character and The Legend Of Tarzan.
George Washington Williams
While Margot Robbie and Alexander Skarsgård will be doing most of the heavy lifting with The Legend Of Tarzan, the film possesses an impressive supporting cast for assistance. Not only is there the Academy Award nominated actors Djimon Hounsou and John Hurt, but there's Academy Award winner Jim Broadbent, too. However, it's the supporting presence of Samuel L. Jackson that will undoubtedly impress viewers the most. In The Legend Of Tarzan Samuel L. Jackson plays George Washington Williams, the pioneering American Civil War veteran, politician, minister, lawyer and journalist who repeatedly broke ground in African-American history. George Washington Williams visited Congo shortly before his death, where he helped to spur an outcry over the treatment of people in the country. It will be exciting to see what Samuel L. Jackson can do with such an influential figure, especially since this is the first time that George Washington Williams has ever actually appeared on screen.
Captain Leon Rom
The Legend Of Tarzan's roster of Academy Award nominated actors doesn't just stop at four though. That's because they've also got two-time winner Christoph Waltz in the villainous role, playing another character based on a real-person, Leon Rom. Rom sounds like a downright despicable individual, as not only has it been speculated that he was the main inspiration for Kurtz in Joseph Conrad's Heart Of Darkness, which was later turned into Apocalypse Now, but he allegedly used to keep severed heads of Africans in his flower bed, and even murdered individuals for the smallest of offenses. Having portrayed the SS-leader Hans Landa in Inglorious Basterds and Blofeld in Spectre, Christoph Waltz is quite adept at portraying wicked individuals. But this might just be his most detestable yet.
History
Of course, The Legend Of Tarzan has a long and storied to try and not just match, but emulate. Originally created by Edgar Rice Burroughs years before cinema even evolved into talkies, the first Tarzan story, Tarzan Of The Apes, was released in print in 1912. In the ensuing decades, the feral child that was raised in the African jungle would go on to appear in innumerable novels and stories. Meanwhile, Hollywood recognized the mainstream appeal of the character when films were still silent, but, starting in the 1930s, a popular Tarzan movie franchise and serial was launched that lasted all the way through the 1960s. However, since then the appearances of Tarzan on the big-screen has only been sporadic. 1981's Tarzan, the Ape Man and 1984's Greystoke: The Legend Of Tarzan, Lord Of The Apes (opens in new tab) both fared well. But, the most recent version was Disney's 1999 animated adventure Tarzan, which is mostly remembered for featuring an agonizing Phil Collins theme song. This could help Warner Bros. in their cinematic cause, though. Because the established legacy and identity of Tarzan mixed with the complete lack of a recent incarnation of the beloved character means that there should be an intrigue and clamoring to see a worthwhile Tarzan film. And, the first trailer for The Legend Of Tarzan suggests that, for the first time in decades, we've got just that.
Your Daily Blend of Entertainment News
Your Daily Blend of Entertainment News
Thank you for signing up to CinemaBlend. You will receive a verification email shortly.
There was a problem. Please refresh the page and try again.