The Mortal Instruments Sequel Nobody Wanted Has Been Called Off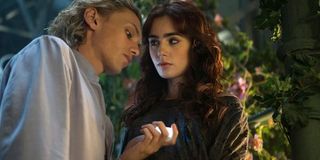 I kind of can't even believe I'm writing this story. After Mortal Instruments: City of Bones opened in August to brutal reviews and even worse box office, it seemed obvious that no one would be making more movies based on the young adult novel series by Cassandra Clare. Why throw good money after bad, right? But producers Constantin Film were still optimistic enough to keep production on the sequel, City of Ashes, scheduled for next week. Well, until now.
The company has told The Wrap that the City of Ashes production has shut down indefinitely, with the explanation that "it will be beneficial to have more time to reposition the film in the current marketplace." That is something of an understatement to be gentle-- the movie was made on a reported $60 million budget and thus far has made $37 million worldwide. This kind of embarrassing shutdown is the reason that most big-budget movies don't get sequels green lit until after opening weekend; sure, when something looks solid ahead of opening you'll get talk about the sequel in the week ahead, like the Man of Steel sequel getting fast-tracked before that film opened. But from the moment its August release date was confirmed Mortal Instruments looked pretty weak, especially for a fantasy series that will always require a good-sized budget. Even the diehard fans of the book probably knew opening weekend that the sequel would never happen>
But Constantin Film is leaving the door open for City of Ashes to happen someday. Here's what the film's executive producer Martin Moszkowicz had to say about their vague future plans:
With director Harald Zwart scheduled to return, along with cast members Lily Collins, Jamie Campbell Bower and Kevin Zegers, City of Ashes promised to be of the same level of quality as City of Bones. Only problem being that nobody on earth actually thought that was a good thing.
Your Daily Blend of Entertainment News
Staff Writer at CinemaBlend