Once Upon A Time's Jamie Dornan And Two More In The Running For Fifty Shades Of Grey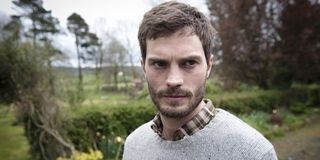 With news that Charlie Hunnam was dropped out of the feature adaptation of E.L. James' steamy novel Fifty Shades of Grey, fans of the book and those curious about the film were left to wonder who would step in to fill the part of the broody, wealthy and dominating Christian Grey. The latest update is that Dakota Johnson, who was previously cast to play the female lead, Anastasia Steele, is reading with a number of up-and-comers, Jamie Dornan among them.
The Wrap states that Jamie Dornan, Billy Magnussen and Luke Bracey are all in the running. The former two have reportedly tested for the role with Dakota Johnson.
If you watch ABC's Once Upon a Time, you may recognize Jamie Dornan from his role as Sheriff Graham and The Huntsman in the ABC drama. He's also in the excellent murder-mystery series The Fall. (Season 1 is on Netflix (opens in new tab). It's only five episodes. Gillian Anderson is in it. Watch it, it's really good.) At 31, Dornan's in the right age bracket, as Christian Grey's supposed to be in his late twenties. He's also really good looking, if you hadn't noticed, and he can play dark as well as he can play attractive, which would work for a part like this. Plus, he has some notable credits under his belt, though he hasn't hit super-fame yet.
And then we have Billy Magnussen (left) and Luke Bracey (right)…
Magnussen's biggest claim to fame is probably his role as Casey Hughes in As the World Turns. He was on the series from 2008-2010. Since then, he's made some appearances on primetime, and coming up we'll see him playing one of the two princes (Rapunzel's) in the Into the Woods movie. At twenty-eight, he's the perfect age. He's also gorgeous, but we should probably assume anyone reading for the part will have that check-box checked.
Australian actor Luke Bracey is said to be a contender for the part, but there's no word on whether he's actually tested for it. Bracey also has soap experience among his credits, having played the role of Trey Palmer in the long-running Aussie soap opera Home and Away. More recently, he played Cobra Commander in G.I.Joe: Retaliation.
Since Hunnam's departure from the role, The Borgias' Francois Arnaud and Alexander Skarsgard are two more names tossed around as rumored possibilities. While it's not at all difficult to picture Skarsgard pulling off some of the sexier scenes -- watch any of his True Blood character's racier moments for evidence of that -- he's also a few years beyond the right age bracket for this part. If Anastasia's supposed to be fresh out of college, Christian needs to be somewhat age appropriate for her. Once you start getting into mid-thirties with the actors, there's a risk that the dynamic of the relationship begins to change, and since that's a key element in the story, it may not be a good idea to mess with that.
I think Dornan, Magnussen and Bracey are a step in the right direction for a part like this, both for the film and for the actors. For one thing, as the Wrap points out, it may be easier for fans to accept whoever they pick for this role if they aren't all that familiar the actor's previous work (and automatically picturing that actor's former characters in the role of Christian Grey rather than the actual actor). A "new" face is a relatively blank slate, which can be a good thing for a lead role in a highly anticipated adaptation like this one. And for another, this part could be a career-maker for an unestablished actor, or a career breaker for an established one. If the movie is terrible, a newcomer -- or a relative unknown, anyway -- might recover and even still manage to benefit from the exposure the film brought them. One or two better roles later, they're set and no one cares how they got their start. Someone with a pre-established career, however, could stand to lose more than they stand to gain, regardless of how the movie does.
The Wrap says the film is supposed to start production November 1, which means we may be hearing confirmation about the re-casting in the near future.
Your Daily Blend of Entertainment News
Assistant Managing Editor
Kelly joined CinemaBlend as a freelance TV news writer in 2006 and went on to serve as the site's TV Editor before moving over to other roles on the site. At present, she's an Assistant Managing Editor who spends much of her time brainstorming and editing feature content on the site.
Your Daily Blend of Entertainment News
Thank you for signing up to CinemaBlend. You will receive a verification email shortly.
There was a problem. Please refresh the page and try again.