Photographic Evidence That The King's Speech Was Shot On The Same Set As A Gay Porn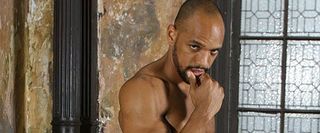 Ballots for this year's Academy Awards were turned in on Monday, which means it's too late for anything to change how things will turn out at Sunday's Oscar ceremony. Everyone behind the The King's Speech has got to be hugely relieved, then, that only yesterday did evidence emerge that their posh movie about British royalty was filmed on the same set as a gay porn. Yes, in that same torn-up room where Bertie and Lionel Logue practiced speech therapy, you can watch two men first play pool together, then really go to town. Relatively SFW photographic evidence is below (via Queer Click); for a distinctly NSFW clip of the porn, called Snookered, you can visit UK Naked Men. Seriously, you've been warned.
It's hilarious, yes, especially because director Tom Hooper and stars Colin Firth and Geoffrey Rush have frequently joked that the movie is kind of a bromance between the King and his therapist. But it also raises some questions about the film's art direction, which could quite possibly win an Oscar for production designer Eve Stewart. At In Contention Guy Lodge has compared information he got from the manager of the historic house where both films were set, 33 Portland Place, to what Stewart said in an interview about creating that torn-up wall that's so heavily featured in the film. Did she exaggerate how much she actually did to change it? And did it really take a gay porn to reveal this?
None of this will affect how The King's Speech fares on Oscar night, but I dare you to ever even look at the film's poster again without thinking about gay porn. That's right, you can't.
Staff Writer at CinemaBlend
Your Daily Blend of Entertainment News
Thank you for signing up to CinemaBlend. You will receive a verification email shortly.
There was a problem. Please refresh the page and try again.