Reese Witherspoon Playing A PTSD Astronaut In Pale Blue Dot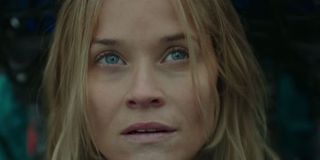 Reese Witherspoon is going to space. Well, sort of. The Oscar-winning actress just nabbed the starring role in an upcoming film about an astronaut with PTSD in a movie called Pale Blue Dot. Get the details below.
According to Variety, Reese Witherspoon is set to headline a new Fox Searchlight film about an astronaut suffering from post-traumatic stress disorder, or PTSD, in the upcoming movie Pale Blue Dot. Witherspoon and the studio are no doubt looking to repeat their recent success. Last year, the Hot Pursuit actress teamed up with Fox Searchlight for the movie Wild, in which she both starred and served as producer.
Pale Blue Dot centers on a female astronaut who ends up facing a collection of personal demons upon returning to Earth from space. The major theme of the story, which will be portrayed through the fraying of her seemingly idyllic life, is to explore a longstanding idea that says astronauts begin to lose their grip on reality after being in space for an extended period of time. Brian C. Brown and Elliot DeGuiseppi, who wrote the script, will also serve as executive producers for the upcoming film. Witherspoon and her business partner Bruna Papandrea will co-produce the picture for their Pacific Standard production company, which also had a hand in Wild and Hot Pursuit.
Pale Blue Dot will likely be among the first of its kind, despite entering a growing trend Hollywood of films about astronauts and space exploration. The most recent of these, the Christopher Nolan-directed Interstellar, may have centered around the mission—which was to find a new planet for humans to inhabit in light of Earth's looming demise—but the film also delved into the mindset and personal struggles of the NASA pilot leading the journey. Although the epic science fiction hit featured strong female characters portrayed by Anne Hathaway and Jessica Chastain, it was primarily a movie centered on Mathew McConaughey's character, Cooper.
Gravity, on the other hand, did revolve around a strong female lead, portrayed by Sandra Bullock, although once again the focus was primarily on her internal and external struggles while in outer space. The audience was left to imagine what lies ahead for medical engineer Dr. Ryan Stone once she landed on Earth. Witherspoon's Pale Blue Dot will, in a sense, pick up where Gravity left of, to the extent that for arguably the first time, audiences will get to see what happens to female astronauts once they are back at home and resume their normal lives.
The essence of Pale Blue Dot has the imprint of a Witherspoon and Papandrea's strong growing brand, Pacific Standard, all over it. The producing duo have made it a point to seek out films that feature strong female leads, and demonstrate a wide range as far as subject matter is concerned. With the Pacific Standard stamp of approval, we can expect big things from the upcoming film Pale Blue Dot.
Your Daily Blend of Entertainment News