Reese Witherspoon Is Reuniting With Her Election Director For This Weirdo Movie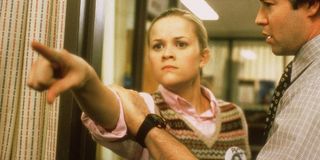 Reese Witherspoon has transformed herself from a rom-com queen into an Oscar front-runner. She was nominated for Best Actress by the Golden Globes for Wild, and she seems like a lock for an Oscar nomination, as well. So what's next for Witherspoon 2.0? She'll be re-teaming with the director of one of her most famous early works for a story that's…well, basically like Ant-Man minus the heroics.
As reported by The Wrap, Reese Witherspoon is joining the cast of Downsizing, which is directed by Alexander Payne. Aside from some Oscar nominations for his recent Nebraska, Witherspoon also knows Payne from their days working on Election together with Matthew Broderick. Downsizing is a peculiar little film (with emphasis on the "little"): in an alternate future not too far off from our present, humanity has developed size-shrinking technology. They can't also talk to ants or fight crime in miniature size like Ant-Man, but they shrink themselves as a means of conserving resources, specifically money.
Witherspoon will take the female lead opposite Matt Damon, who will portray a man considering making the "downsizing" when he's down on his luck. The actress has reportedly been interested in the film since its early stages, though Payne's Sideways star Paul Giamatti was also eyeing a role at one point.
If you think about it, all of Payne's films since Election have earned at least one Oscar nomination, so this is a good move for Witherspoon. The actress earned a Golden Globe nomination for her performance as the over-achieving high school student Tracy Flick, who feuds with her government teacher (Broderick). She gave her character a spitfire wit the likes of which would've annoyed just about anyone, but it was her sometimes unethical drive to succeed that made her so fun to watch.
According to Witherspoon, Flick "probably runs the Tea Party now." And, by the way, it's on Netflix right now, so you can relive all its glory.
Jim Taylor, who's been Payne's longtime collaborator and was also nominated alongside him for the Election screenplay, is co-writing the script for Downsizing. So we'll let the film's unique premise slide for the time being because so far all the right people seem to be in all the right places. Witherspoon certainly adds more pizzazz, given her critically acclaimed performance in Wild, coupled with her role as the girlfriend of hippie Joaquin Phoenix in Inherent Vice. She'll next be seen returning to comedic fair alongside Sofia Vergara in Don't Mess With Texas, and she's also been cast in Paul Feig's Wish List. Downsizing seems like the right project to continue further her new direction.
Your Daily Blend of Entertainment News