See The Hilarious Way Jason Momoa Signed A Fan's Poster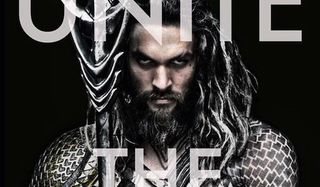 There always has been and likely always will be a schism between DC Comics and their chief business rival Marvel, with fans endlessly debating the relative merits of one publisher over the other. As far as movies go, Marvel has been winning on that front, though DC is making a big push with the likes of Batman v Superman: Dawn of Justice and Suicide Squad. Jason Momoa, who plays Aquaman in the DC universe, recently threw some gasoline on this particular fire, signing a fan's poster, "Fuck Marvel."
Post by Liz Guadiana.
Momoa was on hand at Indiana Comic Con over the weekend to hype his role in Batman v Superman. When one fan approached with one of those "Unite the Seven" posters, asking him to sign it and explain -- as a fan states -- "why all these DC haters out there should join our DC universe," he took the opportunity to throw some shade at his franchise's competitors.
There's little doubt that Momoa is joking around, though it's entirely possible there may be some lingering ill feelings between the actor and Marvel. At one point, Momoa was in the discussion to play Drax the Destroyer in Marvel's smash space adventure Guardians of the Galaxy, a role that eventually went to former professional wrestler Dave Bautista. The Red Road star passed on the role, saying it was too similar to the painted up, shirtless roles he'd played before, especially Ronon in Stargate: Atlantis. Instead, he wanted to focus on other endeavors, like directing the thriller Road to Paloma. Still, Aquaman seems pretty shirtless and painted to us.
This does also kind of drive home the contrast between Marvel and DC. It's no secret that DC is trying to go grittier with their cinematic universe, setting up a more serious tone in opposition to the brighter, festive high adventure of the MCU. No one expects many quippy, Tony Stark-esque one-liners out of the mouths of Batman, Superman, or Wonder Woman.
It seems that now Momoa has firmly planted himself in the DC camp, he's definitely got DC's back, but he's certainly not the only one. A while back, Warner Bros. president Kevin Tsujihara said:
While a healthy rivalry is one thing, and can help drive titles on both sides, I've never been one to abide by the DC/Marvel divide. Both have countless great books, and each company has their bright, cartoony entries, just like they have darker titles. Have you read Punisher lately? As far a movies go, Marvel appears to be taking a step towards the shadows. Avengers: Age of Ultron looks plenty bleak, and Netflix's upcoming Daredevil is bringing things down to a stark, street level. Ultimately, the two sides may not be as different as they pretend to be.
Your Daily Blend of Entertainment News
Your Daily Blend of Entertainment News
Thank you for signing up to CinemaBlend. You will receive a verification email shortly.
There was a problem. Please refresh the page and try again.