See How The Avengers Brought Ultron To Life On Screen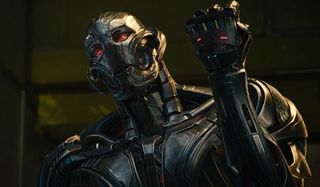 The Avengers: Age Of Ultron's Blu-ray and DVD set will be released at the beginning of next month, which means that we're now going to be privy to a hoard of brand new information regarding the film's production. And to tease this release, Marvel Studios have given us a glimpse into how James Spader filmed his role as the titular villain, and revealed what the fantastic actor looks like in his motion capture pajamas:
Very cool stuff coming to us from USA Today (opens in new tab). For those of you who haven't seen The Avengers: Age Of Ultron – which probably isn't too many considering the film's $1.401 billion box office haul – there are a few SPOILERS ahead so you might want to proceed with caution.
At the start of Avengers: Age Of Ultron, the brother and sister superhero team of Elizabeth Olsen's Scarlet Witch and Aaron Taylor-Johnson's Quicksilver decided to team up with James Spader's Ultron. Unfortunately, because James Spader isn't 8 feet tall and made of metal, the robot character's special look had to be created in post-production. This doesn't mean that Spader simply sat at home during the shoot and then swanned up to read his lines once all the hard work was complete, though. Oh no, he was there to help Aaron Taylor Johnson and Elizabeth Olsen film their scenes, while he also had to wear a full motion-capture suit that was later on turned into the metallic foe.
Olsen explained that the trio would run through their sequences together while looking at and responding to James Spader's face so that they could build up a genuine rapport. However, they would then shoot it properly with Olsen and Taylor-Johnson looking way above Spader's head and at three lights that represented Ultron's eyes and nose. This was while James Spader acted his little heart out beneath their gaze, which, Olsen admitted, was a little bit of a distraction. Said the actress,
In the above clip, Joss Whedon also speaks about why he was so interested in introducing Quicksilver and Scarlet Witch to the Marvel Cinematic Universe. The Avengers writer/director explains that they brought a brand new visual language to the sequel, as Scarlet Witch "can get inside their heads" and Quicksilver "can move so that everything is super slow."
But despite the above trio's best efforts, Avengers: Age Of Ultron didn't eclipse its predecessor either financially or critically. Of course, any film that takes in such an astronomical amount ofmoney can't be regarded as a failure, but this was the first time in a few years that Marvel seemed to slightly stagnate. Next summer's Captain America: Civil War, and its magnificent ensemble, should stop this meagre stall from turning into a full-on slump though.
Your Daily Blend of Entertainment News