Sleeping With Other People Red-Band Trailer: Easily The Year's Filthiest Rom Com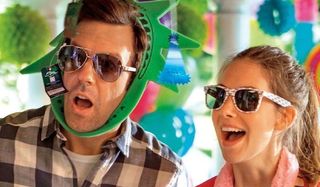 Around these parts we're always up for a good raunchy comedy, and upcoming Sleeping with Other People promises just that. Seriously, after watching this new red band trailer, this is in the running to be the filthiest movie of the year. Check it out for yourself, but maybe take an extra few seconds to make sure your kids aren't anywhere within earshot or you're going to have some uncomfortable questions to answer later.
Written and directed by Leslye Headland, who wrote the play Bachelorette, as well as the 2012 film adaptation, Sleeping with Other People debuted and the Sundance Film Festival back in January and is finally getting a proper release; hence the smutty new trailer from Yahoo.
The story revolves around Lainey (Allison Brie) and Jake (Jason Sudeikis). They're old acquaintances, old flames in some capacity—as we learn, Lainey lost her virginity to Jake some years ago—who reconnect in a sex addiction meeting, as both have come to realize that they may have issues where that's concerned. What follows looks like standard romantic comedy fare, but with a foul, foul mouth and two fantastic leads. With their various issues, they decide to keep things platonic, which isn't always easy, and, of course, they start to develop feelings for each other. Raise your hand if you saw that coming.
But it's not the originality of the story you're buying a ticket for. Both Brie and Sudeikis are charming and compelling to watch, as well as being funny as hell, and given free reign to be as raunchy as they want to be here, this should be a foul-mouthed good time. As proven by Old School—star Will Ferrell is one of the producers on Sleeping with Other People—adults on drugs at a child's birthday party is always funny. But beneath all the blue humor, you can tell there's going to be a gooey, sweet center about two wounded people trying to fix themselves and find love in the process. Nothing terribly groundbreaking, but it looks like fun.
There's also a great supporting cast in place to prop up the two protagonists. Adam Scott shows up, as do Natasha Leone, Adam Brody, Amanda Peet, Jason Mantzoukas, and Andrea Savage.
While Sleeping with Other People may not wind up being the raunchiest movie of the year—The Overnight is going to prove to be a serious contender in this race as well—it's certainly in the conversation. We'll be able to see it and judge for ourselves when IFC releases the film in a limited number of theaters on September 11.
Your Daily Blend of Entertainment News
Thank you for signing up to CinemaBlend. You will receive a verification email shortly.
There was a problem. Please refresh the page and try again.