Furious 8 And XXX 3 Are In A Race To Production, According To Vin Diesel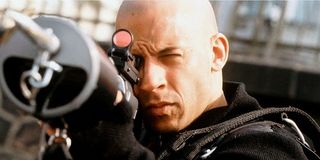 Vin Diesel has no shortage of high-octane action films coming up over the next few years, including new franchise installments Furious 8 and xXx 3. Between those two films, it has turned into something of a race towards production. Furious 8 recently tapped Straight Outta Compton director F. Gary Gray to take the helm, and not to be left behind, Diesel just announced who will direct xXx 3.
Io9 caught up with Diesel, who is on the publicity trail stumping for his upcoming fantasy adventure The Last Witch Hunter, and he handed out the identity of the director who will take over the saga of Xander Cage. He said:
This a very good question, but if we were the betting sort, we'd have to say that in all likelihood we'd put our wager on Furious 8 being the first off the starting line. One, that film is coming off of the $1.5 billion earning Furious 7, so you know Universal is going to want to fast track this and turn it around as quick as possible. Two, it also has a release date already scheduled, and is expected to roar into theaters on April 14, 2017. And three, they have an in-demand director ensconced at the helm in Gray.
On the other side, another xXx movie is something Diesel has been teasing since as far back as 2008, there hasn't been an installment since 2005, and there hasn't been one starring the beefy actor since 2002. And while there are fans, there are hardly as many people clamoring for more extreme sports action than there are for Fast & Furious shenanigans.
Still, now that xXx 3 has D.J. Caruso set to direct, that is a big step forward for the project. For all of the times Vin Diesel has mentioned it, this is the most concrete that it's ever been. This time it actually looks like it will materialize and we'll see more of Diesel's adrenaline-junkie-turned-spy character.
While he's never helmed anything hugely successful, Caruso has a long resume of solid, if unremarkable, action films. He directed I Am Number Four, Eagle Eye, Disturbia, and a number of other projects. He's even been linked to G.I. Joe 3. With his credentials, xXx 3 actually feels like is falls right in his wheelhouse. This likely won't have a budget like Furious 7, which cost $190 million, and while he likely won't turn in anything groundbreaking, he's a safe choice, you know you'll get solid work, and he can deliver what xXx fans are after.
Furious 8 will likely be the priority, but Vin Diesel has always had a soft spot for xXx, and he's always been pretty good at getting what he wants out of studios and the like. We'll have to wait a while to see either xXx 3 or Furious 8, but in the meantime, The Last Witch Hunter opens on October 23.
Your Daily Blend of Entertainment News
Thank you for signing up to CinemaBlend. You will receive a verification email shortly.
There was a problem. Please refresh the page and try again.