Watch Brad Pitt And Angelina Jolie Tear Each Other Apart In Brutal By The Sea Trailer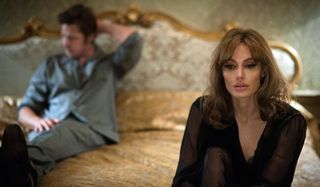 There's no denying the fame of Angelina Jolie and Brad Pitt. But, while the actors have worked on many projects over the past ten years since they first teamed up on Mr. & Mrs. Smith, they've neglected to work together again. Until now, that is. The newest trailer for By the Sea is here, and it's kinda brutal.
Man, they are not playing around for this one. It starts off so peaceful, too. There are tranquil shots of Brad Pitt by the sea, an opulent French home, Angelina Jolie lounging sexily on a balcony, smoking and…looking through some sort of illicit peep hole. And then, well, all the peaceful shit just hits the fan. Screaming, crying, throwing things, drunken walks down long, dark hallways. Then the whole thing ends with Jolie turning into a messy, sobbing heap piled on the floor off camera.
By the Sea was also written and directed by Angelina Jolie, and it looks so bare bones intense that I could see it being hard to watch an actual married couple act out these scenes. Did you see how she kicked him when they were in bed? Dude, that was not playful at all, that was some serious "I hope you fall and hit your head on the way down" leg action right there.
The film details a couple's emotional breakdown while traveling through France in the 1970s. Husband and wife are a writer and a former dancer, respectively, so you know they're both moody and dramatic as hell without even being pissed at each other. I bet this will be a glorious movie. Everything about it says '70s decadence, drama and attitude. The scene where she's whipping her hair around and we see it reflected in one of 1970s style faceted mirrors? So classic. Angelina Jolie's pointed, sexy-danger fingernails, Brad Pitt's porno 'stache and even the music fit the period so well you'd think this movie was actually filmed forty years ago.
Well, this is certainly an interesting project for the Jolie-Pitts to make their collective return to film. It seems silly to compare what their characters are going through on screen with real life, but just you wait, it's wheezing its way out of some dark, gossipy corner right now. What I wonder about most is how difficult the scenes were to shoot. If you're not angry at your spouse, how do you treat them this badly and feel OK about it? If you are mad at them, how do you channel that and still pull back before you bludgeon them to death with a film camera?
They both survived making the movie, so I guess the couple found the right balance. While there's no telling how deep this movie will go, and for how much of the film, we seem to be able to bet on a fantastically fierce ride no matter what.
By the Sea is in theaters on November 13.
Yennefer's apprentice, Gilmore Girl; will Vulcan nerve pinch pretty much anyone if prompted with cheese...Yes, even Jamie Fraser.
Your Daily Blend of Entertainment News
Thank you for signing up to CinemaBlend. You will receive a verification email shortly.
There was a problem. Please refresh the page and try again.