This Week In Home Entertainment: Sex Tape, Snowpiercer And More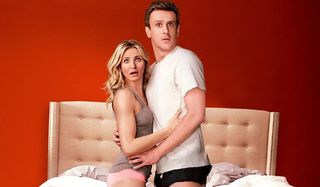 Sex Tape Blu-ray
Director Jake Kasdan follows up his raunchy but lesson-building movie Bad Teacher with another flick about adults behaving badly. In Sex Tape, a couple decides to spice up their love life by putting together the titular tape; however, things don't go quite as planned. Jay (Jason Segel) and Annie (Cameron Diaz) don't really understand the cloud, leading to the tape getting uploaded for their family and friends to see. Ridiculous shenanigans ensue.
Like Bad Teacher, Sex Tape focuses a lot on the rapport between Diaz and Segel, who are both comedy pros. Despite this, they don't really sell well as a married couple with two adorable, likable children, although the addition of kids in the movie allows for some of the same sort of cheeky kid-based jokes that Adam Sandler also likes to employ in his films.
Segel and Diaz have great rapport, but they are given the tough task of acting upset and a little crazy over their sex tape. Because of this, Sex Tape is often better in moments spent with the rest of the cast, including Rob Corddry, Ellie Kemper, Rob Lowe, Nat Faxon and an obnoxious middle schooler played by Harrison Holzer. Sex Tape isn't the funniest comedy of 2014, but with few straight up comedies produced this year, it's a suitable choice for date night. You can order Sex Tape over at Amazon (opens in new tab).
Best Special Feature: The Deleted & Extended Scenes are pretty good, illuminating a few plotlines that had to be cut, including more scenes with the mailman after the sex tape was leaked, as well as a subplot featuring Nat Faxon and his in-office romance, as well as the retrieval of an additional iPad. It's easy to see why the scenes were cut, but they are still worth a watch, as Faxon is the best part of the scenes, as usual.
Other Extras:
Bloopers
Deleted & Extended Scenes
Line-O-Rama
"Capturing the Moment"
"Romance Reboot with Dr. Jenn Berman"
"Meet Hank Rosenbaum"
Snowpiercer Blu-ray
Snowpiercer is a movie that is tough to box in and even tougher to define. It's strangeness stems from the way the project came together to its final product, which is very different from most movies that earn decent enough budgets to also look incredible onscreen. The movie is based on a French graphic novel, has a Korean director and stars a slew of English and American actors, including one famous Marvel star. It's built on oddities and mixtures, and on cultures clashing in a future that is bleak and dim.
Director Bong Joon-ho's first English language movie is set up 17 years after an ice age has cropped up thanks to a human experiment gone wrong (an animated extra on the disc goes into further detail about the Earth's weather changes). While most of humanity has died, a slew of individuals are stuck on a train as the weather rages outside. It's relatively safe for many of those on board, but in the back of the train, the lowly live, relying on protein blocks and the generosity of those up front, including the legendary Wilford (Ed Harris) and the militant Mason (Tilda Swinton) to live. It's a status quo that makes many discontent, and leaders Curtis (Chris Evans) and Edgar (Jamie Bell) want to do something about it.
Though the flick wasn't widely viewed in the US, Snowpiercer is one of the best Blu-ray purchases of the year. Anchor Bay Home Entertainment's release looks great, especially during its action scenes, which include bullets piercing glass between train car and train car. There's also a memorable scene shot with night vision glasses that is both graphic and elegant. Beyond the actual look and feel of the movie, Snowpiercer is jam-packed with extras for fans. You can order Snowpiercer over at Amazon (opens in new tab).
Best Special Feature: The actual Blu-ray disc features critics commentary only, which isn't much to write home about. However, there's a separate disc filled with extras that will please cinephiles and action lovers alike. It's hard to choose a favorite, but I'm personally a fan of learning the origins of movies and thus "Transperceneige: From The Blank Page to the Black Screen" was in my wheelhouse. It's also among the most informative bonus features on the disc. Keep in mind, it is filmed in French and it looks at the comic that was created in the eighties that informed Snowpiercer. It fits perfectly with the second extra, "The Birth of Snowpiercer," which explains in detail how Bong Joon-ho's visuals were able to come together to create the abstract film.
Other Extras:
"The Characters"
Animated Prologue
Chris Evans and Tilda Swinton on Snowpiercer
"The Train Brought to Life: Behind The Scenes Of A Special Screening"
Concept Art
Other October 21 Releases
Just in time for Halloween, Universal Studios Home Entertainment is The Purge: Anarchy, the sequel to the hit 2013 flick The Purge. Anarchy is bolder and louder than its precursor, and its landing on Blu-ray just in time for the scariest holiday of the year. It's good news, too, because Halloween actually lands on a Friday this year. You can order The Purge: Anarchy over at Amazon (opens in new tab).
You can also check out some more of this week's releases, below. Unless otherwise noted, sets are available on both Blu-ray and DVD.
Mad Men: The Final Season – Part 1
Earth To Echo
The Fluffy Movie: Extended Edition
Life After Beth
A Letter To Momo
Kundo
Duck Dynasty: Seasons 4-6 DVD
Reality TV fan with a pinch of Disney fairy dust thrown in. Theme park junkie. If you've created a rom-com I've probably watched it.
Your Daily Blend of Entertainment News
Thank you for signing up to CinemaBlend. You will receive a verification email shortly.
There was a problem. Please refresh the page and try again.