Meet John Boyega, Star Wars' Newest Star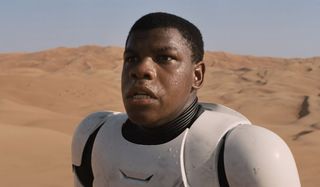 Star Wars: The Force Awakens is now only a few weeks away, and while the film includes a cast full of notable faces – including Harrison Ford, Mark Hamill, Oscar Isaac and Adam Driver – there are a few lead actors who don't quite have the same name recognition as their co-stars. One such star is British actor John Boyega… but seeing as you're going to be hearing his name a lot in the future, we decided to give you a breakdown of who he is.
Where does John Boyega come from? What does his past work include? Who is he playing in Star Wars? What does the future hold for him? We answer all these questions and more in this guide, so read on!
His Background
John Boyega is about to become one of the most well-known actors in the entire world – which is a level of accomplishment he has spent almost his entire life looking to reach. Born in London to Nigerian parents in March of 1992, he was initially pushed towards being a preacher like his father, but saw his life take a different turn when he was noticed in a primary school play and invited to attend a special theater school. While in secondary school as a teenager, he took part in numerous theatrical productions, and he attended South Thames College as a performance arts student, where he continued to hone his craft. He also trained at the Identity School of Acting, an award winning program in the UK.
While many actors toil for decades trying to get their big break after years of education and training, Boyega wound up not following that particular career model. Instead, at the age of 19 he was cast as the lead in a low-budget sci-fi film that wound up changing his life forever.
His Big Breakout
Having had the opportunity to do plays on major stages like the National Theatre and the Tricycle Theater, John Boyega was given the opportunity to make his feature film debut with Attack The Block - a movie from first time writer/director Joe Cornish. With an estimated budget of just $13 million, and a cast full of unknowns with the exception of Shaun of the Dead's Nick Frost, the project wasn't really on anyone's radar at the start – but the finished result and its big world premiere changed that story in a big way.
In the film, Boyega stars as Moses – the tough, quiet, smart leader of a small pack of hoodlums living in the London projects. One night, he and his crew try to mug a young woman, but wind up being interrupted when a meteorite comes crashing down from space. Unfortunately, it's not actually a meteorite, but instead a cocoon for an eyeless, pitch-black, mouth glowing alien that seems to be very determined to eat any human that it comes across. Before long, these creatures are all over the place, and Moses must work with his crew to not only stay alive, but fend off the attack.
Attack The Block made its world debut on March 12, 2011 as part of the slate of titles featured at the annual SXSW Film Festival, and that was the birth place of seismic buzz. When it was finally released here in the United States in July of 2011, it never found its way into more than 66 theaters – resulting in a $1 million domestic gross – but the worldwide figure stands at $5.8 million, and it has gained a cult following in the years since.
The Reviews
Genre movies have a tendency to be a bit divisive when it comes to critical appeal, but that wasn't the case for Attack The Block. By the time all of the professional critics had their say, the sci-fi action dramedy was left standing with a 90% rating on Rotten Tomatoes. Of course, this number is representational of the film as a whole – but writers did make a point of noting the impressive debut of John Boyega, and complimented writer/director Joe Cornish for his casting.
In her review for CinemaBlend, Katey Rich complimented the entire cast, but noted Boyega as the "breakout star." And it wasn't just us who was impressed. In his 3/4 star review, Roger Ebert referred to the young actor as a "fortunate discovery," and Peter Travers not only called for audiences to keep an eye on Boyega, but described him as "a fireball with serious acting skills."
Hollywood most definitely stood up and took notice of this fresh young talent as a result of his Attack The Block performance and cultivated buzz – and while it would take a couple of years, eventually he found himself as part of one of the biggest blockbuster events of all time.
Star Wars Casting
It was on March 12, 2014 that John Boyega's name first entered the rumor pool for Star Wars: The Force Awakens (or as it was known then, Star Wars: Episode VII). A Variety was published not only reaffirming the news that Jesse Plemons was being considered for the project's male lead – but added that he was competing with John Boyega, Ed Speleers, Matthew James Thomas, and Ray Fisher. Those names continued to circulate for the next few weeks, but all of the casting rumors were officially put to rest in late April.
On April 29, 2014, Star Wars: The Force Awakens finally revealed its full ensemble cast, and John Boyega's name was the first on the long list. It was simultaneously revealed that he would be joining a group of franchise newcomers in Daisy Ridley, Adam Driver, Oscar Isaac, Andy Serkis, Domhnall Gleeson, and Max von Sydow, as well as returning stars Harrison Ford, Carrie Fisher, Mark Hamill, Anthony Daniels, Peter Mayhew, and Kenny Baker.
Exciting as the casting announcement was, the key element that it lacked was the inclusion of any details regarding the characters any of the new actors – including John Boyega. Instead, we've spent the last year and a half picking up tidbits here and there trying to get a clear picture about the role he is playing in the J.J. Abrams-directed blockbuster.
Who Is Finn?
Our first official look at John Boyega's Star Wars: The Force Awakens character came on November 28, 2014 – which the crazy die-hards will recognize as the day that the first ever teaser trailer for the film was released. Finn – as we would come to know him – appears in the very first scene of the footage, shown to be stranded in the middle of a vast desert and wearing a Stormtrooper uniform. Sadly, what we saw really didn't tell us anything about who Finn is or what he's doing in the movie, but some of those details have come out since.
Finn will begin Star Wars: The Force Awakens in what Boyega has described as "incredible danger," and it's as a result of this danger that he finds himself launched into the saga story that we've been seeing unfold since 1977. He eventually teams up with not only the other key franchise newcomers Rey (Daisy Ridley) and Poe Dameron (Oscar Isaac), but also Han Solo (Harrison Ford) and Chewbacca (Peter Mayhew).
One big question that has continued to persist regarding the character, however, is in regard to whether or not he is Force sensitive/a Jedi. Footage has revealed that there will be a scene in the film where he wields a lightsaber and goes toe-to-toe with the villainous Kylo Ren (Adam Driver), but it isn't entirely clear if he's actually been trained to use the famous weapon. It's one of the major Star Wars: The Force Awakens mysteries that will only be solved once the film is actually released in theaters.
His Future With Star Wars
These days, it's commonplace for studios to lock actors in to extended contracts that will see them playing the same character for years and years to come. Marvel Studios famously signed individual members of The Avengers cast to six-picture deals, and many other franchises have secured their futures by crafting similar arrangements. What's unclear at this point, however, is whether or not John Boyega has one of these deals with Star Wars.
In August 2014, a report circulated saying that actress Daisy Ridley is attached to be in two more Star Wars movies, but there have not been any similar reports regarding the actor playing Finn in The Force Awakens. This will likely change in a big way in coming weeks, as Boyega will likely be asked about his future with the franchise as he makes the press rounds.
It's hard to imagine that we would see Finn pop up in Star Wars: Rogue One, or the Han Solo spin-off movie, but it's also not hard to imagine him being one of the characters who sticks around for the entirety of the new saga trilogy – including Rian Johnson's Star Wars: Episode VIII and Colin Trevorrow's Star Wars: Episode IX.
Other Franchise Opportunities
Being arguably the most popular film franchise in the world, Star Wars is a pretty gigantic get for a young actor like John Boyega. What's interesting, however, is that before he became a part of the legendary sci-fi saga, there were some interesting options and opportunities that wound up potentially not being explored as a result of his commitment to Star Wars: The Force Awakens.
For example, in an alternate universe where John Boyega isn't a part of the Star Wars cast, it's possible that he could be getting ready for his opportunity to make his debut in the Marvel Cinematic Universe. A few months after he was announced as part of The Force Awakens ensemble, the actor took to his personal Twitter account to express his interest in playing Black Panther in the comic book movie world. Unfortunately for Boyega, that part eventually went to actor Chadwick Boseman – but considering Episode VII and Captain America: Civil War were filming at the same time, doing both would have been impossible.
While playing Black Panther was only a hope for John Boyega, there was a very real chance that he could have established himself as part of the Terminator universe. In the weeks between when Boyega was first rumored for Star Wars: The Force Awakens and when he was officially cast, a report circulated saying that Terminator Genisys was interested in adding the actor as Danny Dyson, the son of T2: Judgement Day's Miles Dyson. A few days later it was announced that The Hunger Games' Dayo Okeniyi had gotten the part.
It's worth mentioning that other franchises are absolutely still on the table for John Boyega – though at this time exactly what will be available is unclear. It all depends on what his future with Star Wars looks like, but as noted earlier, that's something we don't really know about right now.
Other Projects
In the years after Attack The Block, John Boyega's name still carried buzz, though he has been a part of largely smaller film productions, including the dark British drama Junkhearts with Eddie Marsan, and the 2013 romantic drama Half of a Yellow Sun starring Chiwetel Ejiofor and Thandie Newton.
Before Star Wars: The Force Awakens, his most notable title was the TV mini-series 24: Live Another Day - which brought Kiefer Sutherland's Jack Bauer to the streets of London to stop global terror. Appearing in four episodes, Boyega played Chris Tanner, a United States airman and drone pilot.
The good news is that Boyega isn't sitting on his laurels following the release of Star Wars: The Force Awakens. In fact, he has already completed work on a high-profile follow-up. This fall he teamed with director James Ponsoldt on the Dave Eggers adaptation The Circle - which boasts an absolutely outstanding ensemble cast. Also appearing in the movie will be Emma Watson, Tom Hanks, Karen Gillan, Bill Paxton and Patton Oswalt. Sadly, no release date has been revealed just yet, but it is certainly one of our most anticipated upcoming titles.
Your Daily Blend of Entertainment News
Assistant Managing Editor
NJ native who calls LA home and lives in a Dreamatorium. A decade-plus CinemaBlend veteran who is endlessly enthusiastic about the career he's dreamt of since seventh grade.
Your Daily Blend of Entertainment News
Thank you for signing up to CinemaBlend. You will receive a verification email shortly.
There was a problem. Please refresh the page and try again.