Who Jena Malone Is Probably Playing In Batman v Superman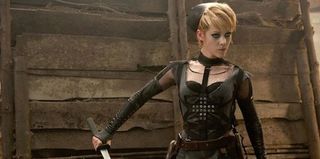 We still have eight months until Batman v Superman: Dawn of Justice arrives in theaters, but that's not going to stop the rumor mill from spinning. The latest scuttlebutt to make the rounds involves the possible identity of Jena Malone's character in the movie.
Be warned, there are potential spoilers beyond this point. If you're averse to such things, leave now. You've been warned.
According to Latino Review's industry sources, the Hunger Games and Donnie Darko star will appear in Dawn of Justice as Barbara Gordon, daughter of Commissioner James Gordon, and the civilian alter ego of both Batgirl and Oracle in the comics.
This latest bit of news runs contrary to earlier reports that Malone is playing a version of Robin based on the Carrie Kelley character from Frank Miller's The Dark Knight Returns. Most fans dismissed this after the latest Dawn of Justice trailer shows the shrine to Robin, who is presumably dead (why else would you build a shrine?) by the Joker's diabolical hand. It is still possible a Malone Robin could appear in flashbacks, Batman certainly seems to be tormented by his past and his inability to save everyone he cares about.
However, if this latest report pans out, it looks like Zack Snyder and company are going in a different direction. And now the speculation can begin about whether Malone plays Batgirl or Oracle in the movie.
Batgirl first appeared in 1967 as Commissioner Gordon's daughter, a mild-mannered librarian by day, a caped, crime-fighting vigilante by night. She has a long history across a number of titles, and Barbara was notably paralyzed when the Joker shot her through the spine in Alan Moore's classic The Killing Joke. Oracle, on the other hand, is a hacker and source of information, lending aid to various superheroes.
Either one sounds equally likely. Batgirl has a long connection to Batman, and her presence could give the Caped Crusader an emotional component in the film. For her part, Oracle made her debut on the pages of Suicide Squad, which may provide a link to the expanding DC Extended Universe that could span multiple movies. Whatever role Jena Malone plays, it must be fairly substantial or provide something major the plot. Warner Bros. reacted swiftly and viciously when an extra revealed that she was involved, which indicates that it was something they were keeping a closely guarded secret.
In Batman v Superman: Dawn of Justice, after witnessing the destruction at the end of Man of Steel, Gotham's Dark Knight sees the danger in a being as powerful as Superman being left unchecked and takes it upon himself put a hurting on the Last Son of Krypton. While those two tussle, a new threat arises, putting the whole of humanity in grave danger.
Starring Ben Affleck, Henry Cavill, Amy Adams, Laurence Fishburne, Jesse Eisenberg, Gal Gadot, Diane Lane, Jeremy Irons, Holly Hunter, Scoot McNairy, and more, Batman v Superman: Dawn of Justice opens on March 25, 2016.
Your Daily Blend of Entertainment News
Thank you for signing up to CinemaBlend. You will receive a verification email shortly.
There was a problem. Please refresh the page and try again.