Zoolander 2 Just Confirmed Another Returning Star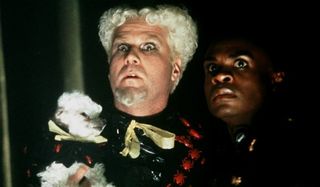 There is no way Mugatu is coming back for Zoolander 2 without his assistant. Ben Stiller, who will be reprising his role as Derek Zoolander, recently revealed another returning player for the highly anticipated sequel. Sorry, Nathan Lee Graham, but it looks like you're going to have to fetch Mugatu some more foamy lattes so he can throw them in your face.
Stiller announced Graham's return on Instagram on Thursday. The actor portrayed Todd, who made the fateful mistake of delivering fashion designer extraordinaire a foamy latte, which he should have known makes him farty and bloated. It's unclear in what capacity he'll be featured, but we're glad there's someone who can handle Mugatu's diva attitude. Watch him take a latte to the face like a champ.
Zoolander 2 is turning into quite the reunion. In addition to Stiller and Graham, the sequel will feature Owen Wilson as fellow male model Hansel, Christine Taylor as Derek's journalist love interest turned baby mama Matilda Jeffries, Billy Zane as, well, Billy Zane, and, of course, Will Ferrell as the infamous Mugatu. In the first film, the crazed designer brainwashed Derek into assassinating the Prime Minister of Malasia, but his plan was foiled by Hansel and Matilda. At the end of the film, he was hauled away to prison, along with Milla Jovovich as Tinka. Todd was also by Jacobim's side, mostly to hold his pocket puppy, but will he stand by his man in prison? Perhaps Todd will be spoon feeding Mugatu in between his prison bars.
Stiller and Wilson made Zoolander 2 official when they reprised their roles at Paris Fashion Week, walking down the runway of Valentino's show. They were also the subjects of an impromptu photo shoot after the show. The film is in the middle of production in Rome, Italy. So far, the newcomers joining the cast are Fred Armisen, Penelope Cruz, the practically unrecognizable Kristen Wiig as Alexanya Atoz, Kyle Mooney, Karlie Kloss, Cyrus Arnold as Derek's son, and Justin Bieber, said to appear in a cameo role. Stiller announced the majority of the cast on Instagram, and with Graham as the latest to return, it seems likely that more will follow. Plot details are unknown, but we can only hope for more model walk-offs, more younger male models vying for the spotlight and more Blue Steel magic.
Zoolander 2 will be released in theaters staring on February 16, 2016.
Your Daily Blend of Entertainment News