New Sausage Party Clip Doesn't Hold Back On The Double Entendres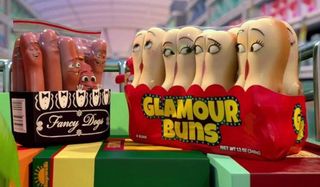 Suicide Squad's tepid reviews mean that there's still a chance it could be usurped as the last hit film of the summer, a title that Guardians Of The Galaxy and Straight Outta Compton claimed in 2014 and 2015, respectively. With just a few weeks left until fall arrives, Sausage Party is now looking the most likely candidate to produce the last jolt of enthusiasm this season. And the raunchy comedy's latest clip suggests it will do exactly that.
If, like the rest of the human race, you're the kind of person who can't help but giggle at such immature and inappropriate jokes, then the above clip was undoubtedly a delight for you. I mean, who doesn't love a good double entendre? While Seth Rogen's Frank takes the lead in Sausage Party, the below gave us an extended look at Kristen Wiig's Brenda and Jonah Hill's Carl. Like Frank, Carl is a sausage, while Brenda is a hot dog bun that's destined to be penetrated by Frank once they've finally been purchased and taken out of the store to what they assume is happily ever after.
In the clip, after commenting on the size of the buns, Carl is then rightfully heckled and abused by Brenda and her pals, as they make crude suggestions about his sexual prowess and Brenda even suggests that no-one inside the package will want to be paired up with Carl, too. Of course, that's until Roberta jumps in and ruins Brenda's joke, which immediately leads to her shouting her down. Classic Roberta.
As the original trailer for Sausage Party made clear when it was released earlier this year, the food products that dream of going to a heavenly after-life once they've been purchased are given a deadly awakening when they finally are taken out of the store. Those of you that need a reminder, can watch Sausage Party's trailer below.
Seth Rogen's consistency isn't given enough credit. Since making his big-screen debut in 2005's The 40-Year-Old Virgin, only two (Guilt Trip and The Green Hornet) of Rogen's 13 films have dropped below 50% on Rotten Tomatoes. Over the last three years, This Is The End, Neighbors, The Interview, The Night Before and Neighbors 2: Sorority Rising have all been either at least watchable or exemplary, and with a stunning vocal cast that also includes Bill Hader, Michael Cera, James Franco, Danny McBride, Paul Rudd, Craig Robinson, Nick Kroll, David Krumholtz, Edward Norton and Salma Hayek, and early rave reviews after its work in progress screening at SxSW, there's a chance that Sausage Party could eclipse them all.
We'll find out if that's the case when Sausage Party is released on August 12.
Your Daily Blend of Entertainment News
Thank you for signing up to CinemaBlend. You will receive a verification email shortly.
There was a problem. Please refresh the page and try again.