Is Sausage Party 2 Happening? Here's What Seth Rogen Says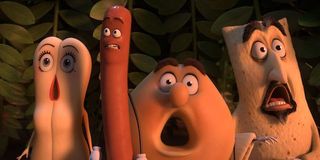 2016 has been a great year so far for animated movies that the whole family can enjoy. Sausage Party will not be one of those movies. The R-rated, CGI comedy is only a couple weeks away from release, but ever since the first trailer was released in March, we've had a good idea of how filthy, over the top and ridiculous it will be. Well now it looks like we can expect the food slaughter will past 2016, as Sausage Party 2 is already being planned.
During a Fandango (opens in new tab) Q&A at San Diego Comic-Con, star and co-producer Seth Rogen confirmed that the Sausage Party filmmakers intended to make a sequel at some point. Rogen added that this was the first time they'd made a movie with "clear intentions" to make a follow-up, and people who see Sausage Party next month will understand where the story can be taken next. The actor didn't provide any information about a release date or plot details, but it sounds like Rogen and the gang already know where these edible characters will go next.
In case you haven't witnessed the insanity that is Sausage Party in previews, the movie follows a group of personified food stuffs who are bought by a customer. They think that by being chose, they'll enter some kind of paradise, but they're soon shocked to learn what humans do with the food they buy and try to escape their true fate: being consumed, i.e. murdered. On the surface, it may look like a pleasant, Pixar-style animated romp, but the cursing and surprisingly freaky way to see them prepared and eaten make this movie anything but kid-friendly. Aside from Seth Rogen, the movie's voice cast includes Kristen Wiig, Jonah Hill, Bill Hader, Paul Rudd, Michael Cera, James Franco, Salma Hayek and more.
It's hard to even fathom how the Sausage Party could continue, because escaping their human captor isn't going to be enough. After all, food decays, so even if they survived being chopped, cooked, eaten, etc, eventually they will perish. Assuming most of the cast sticks around for a sequel, that presumably means that the story would have to take place a few days or, at most, weeks after the first movie...unless they find a way to preserve these characters will past their expiration date. Regardless, we won't have the faintest idea of what Sausage Party 2 will be about until the first movie comes out, but it's a safe bet that it will be just as shocking and absurd as its predecessor.
Sausage Party arrives in theaters on August 12, and we'll keep you updated on the latest developments surrounding the sequel when they come in.
Connoisseur of Marvel, DC, Star Wars, John Wick, MonsterVerse and Doctor Who lore. He's aware he looks like Harry Potter and Clark Kent.
Your Daily Blend of Entertainment News
Thank you for signing up to CinemaBlend. You will receive a verification email shortly.
There was a problem. Please refresh the page and try again.