Who The Flash Movie's Main Villains Might Be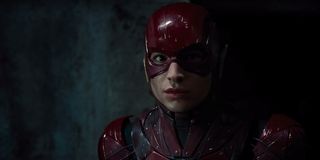 Now that Barry Allen has shown off his speed in his Batman v Superman: Dawn of Justice and Suicide Squad cameos, fans are eager to see the Flash fully in action on the big screen. Justice League will remedy this in November 2017, but it will be a longer wait to see him battle crime on his own. The Flash movie hasn't officially announced yet who the main antagonist will be, but today brings word that the Scarlet Speedster may go up against numerous adversaries, organized together as The Rogues.
The Wrap reporter Umberto Gonzalez mentioned during a Periscope stream that the super villain team known as The Rogues will be The Flash's main bad guys. He didn't reveal which specific villains will compose the team, but Captain Cold and Captain Boomerang (who has already been seen in Suicide Squad) were named as members from the comics. We'll have to wait to learn if this is true, especially since an earlier rumor named Professor Zoom as appearing in the movie alongside Captain Cold. However, throwing a whole group of villains at the eponymous speedster would definitely provide a big enough challenge.
The original and most frequent iteration of The Rogues consists of villains Barry Allen battled as The Flash in the Silver Age of Comics, though Wally West tangled with them on occasion, too. Its main members have included Captain Cold, Heat Wave, Weather Wizard, Mirror Master, Captain Boomerang, Golden Glider and Trickster, among others. While other Rogue groups have formed with more malevolent intentions, the main Rogues group isn't about world domination, slaughtering innocents or anything along those lines. Under Captain Cold's leadership, their main concern is the score, i.e. making sure their robberies and heists go off without a hitch, and working together, they stand a better chance of making sure Flash doesn't interfere. Outside of the comics, the current Flash TV series has introduced many members of The Rogues over its run (and will continue doing so in Season 3), but the official group hasn't formed yet outside of Cold working with Heat Wave and Golden Glider.
If The Rogues do appear in The Flash movie, it will be interesting to see whether their gimmicks will come from technology or if they'll be turned into metahuman powers. One also wonders how they'll dedicate enough screen time to make sure each villain is fleshed out, rather than just focus on Cold and make the others look like his lackeys. As long as The Flash can learn from the mistakes past superhero movies has made with featuring numerous villains (I'm looking at you, Spider-Man), then they should make exciting threats for the Fastest Man Alive.
The Flash races its way into theaters sometime in 2018. If The Rogues will indeed be the movie's main villains, who would you like to see on the team? Let us know in the comments below.
Connoisseur of Marvel, DC, Star Wars, John Wick, MonsterVerse and Doctor Who lore. He's aware he looks like Harry Potter and Clark Kent.
Your Daily Blend of Entertainment News
Thank you for signing up to CinemaBlend. You will receive a verification email shortly.
There was a problem. Please refresh the page and try again.