Who Is Lyra Erso In Rogue One: A Star Wars Story? Here's What We Know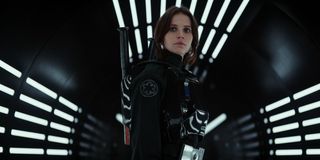 Rogue One is going to be even more a family affair than we thought. Because it has been confirmed that we're going to be introduced to Jyn Erso's mother as well as her father. Valene Kane, who is portraying Lyra Erso in Rogue One: A Story Wars Story, has revealed that her character is indeed the mother of Felicity Jones' protagonist, which suggests that this could just be the first of many outings for the Erso family.
Valene Kane made this revelation regarding her character while speaking to Belfast Live, admitting that it came as quite a surprise that she was involved in such a key role in the iconic franchise. And her part of Lyra Erso is quite a doozy, too, as not only is she the mother to Felicity Jones but she is the wife to Mads Mikkelsen's Galen Erso.
But it doesn't sound as though we'll get to see much of Valene Kane in Rogue One, though. That's because, according to Gizmodo, the trailer for Rogue One that premiered at Star Wars Celebration earlier this year appeared to show a young child, who we can safely assume is Jyn, running through a field as Imperial ships wreaked havoc. Plus, Star Wars has a thing with orphans so it wouldn't be a stretch if Lyra Erso's time alive came to an end prematurely, and helped to spur Jyn on to a life of righteousness.
Mads Mikkelsen has already revealed some hefty details about his character Galen Erso. Not only did he divulge that Galen is Jyn's father, but he also admitted that they have a distant relationship and that he is the one that sends the Rebels a transmission about the Death Star being tested.
For those of you that don't know, Rogue One is the eighth installment to the Star Wars universe. Set before Star Wars: A New Hope, Rogue One sees Felicity Jones's Jyn Erso recruited by the Rebel Alliance to steal the plans for the Death Star, the super-weapon/space station that is the home of Darth Vader and is used by the Galactic Empire in their quest to rule the galaxy. You can check out the trailer for Rogue One, which suggests that the blockbuster is going to be downright spectacular, by clicking below.
Directed by Gareth Edwards, who over the last few years has overseen the hugely impressive Monsters and Godzilla, Rogue One also stars Diego Luna, Ben Mendelsohn, Donnie Yen, Mads Mikkelsen, Alan Tudyk, Riz Ahmed, Jiang Wen, and Forest Whitaker. We'll finally get to see Rogue One when it's released on December 16.
Your Daily Blend of Entertainment News
Your Daily Blend of Entertainment News
Thank you for signing up to CinemaBlend. You will receive a verification email shortly.
There was a problem. Please refresh the page and try again.