See Denzel Washington Look Like He's Going To Fall Asleep At The Golden Globes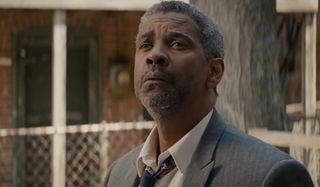 If there's one thing that has changed at the Golden Globes in recent years it's just how quickly celebrities' reactions can go viral when they're caught looking particularly foolish. Last year Leonardo DiCaprio found himself being caught out a few times, especially when Lady Gaga sauntered past him on her way to picking up her gong. But this year it's the turn of King Denzel Washington, as he was spotted basically falling asleep during Lorenzo Soria's speech.
Poor Denzel. Either he had just become immediately overcome with boredom, or this was the exact moment that he realized he wasn't at the cool table. Obviously that's whatever table Ryan Reynolds and Blake Lively are at.
As the Hollywood Foreign Press Association's president, all Lorenzo Soria was trying to do was thank the people that made the variety of films nominated at the Golden Globes for doing such sterling work. Clearly that wasn't enough for Denzel Washington, who is nominated for Best Actor in a Motion Picture Drama for his role in Fences. Instead, Denzel Washington went to his very own La La Land. I mean just look at him.
This isn't the first time that Denzel Washington has given us a meme at the Golden Globes, though. In fact, just last year the actor's painfully awkward smile took the internet by storm.
Neither is particularly flattering. Despite the fact that Denzel Washington was caught sleeping with his eyes open you can't help but still love the man. Especially because of his astonishing work in Fences, which has seen him become one of the front-runners for acting accolades. He's expected to duke it out with Manchester By The Sea's Casey Affleck for the Best Actor gongs over the coming weeks, and just one glimpse of the Fences trailer explains why.
You can read my thoughts on Fences here, while anyone who hasn't seen the hugely powerful drama should do so as soon as possible. Once you get a glimpse of his efforts in the film you'll immediately understand why Denzel Washington looked so tired during the Golden Globes.
Your Daily Blend of Entertainment News
Your Daily Blend of Entertainment News
Thank you for signing up to CinemaBlend. You will receive a verification email shortly.
There was a problem. Please refresh the page and try again.