11 Awesome Movies You Need To Watch Before They Leave Netflix In February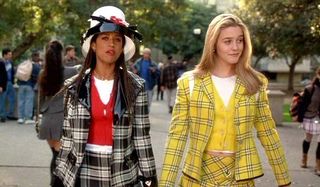 February is under a week away, and with that turn of the calendar comes some inevitable shedding of titles from the Netflix Instant library. This month brings the removal of some low key classics and hidden favorites that the internet loves to rave about, as well as two films that have sequels coming to theaters through the course of this year. Clear your weekend calendar and start contemplating sick days, as you're going to want to see these movies before they leave Netflix.
Clueless
One of the best things about Netflix's streaming library is that if you find the right title, you can take a trip down memory lane. Clueless is one of those titles that is a time capsule in and of itself, capitalizing on the height of '90s fashion and teen culture. Though if nostalgia isn't your thing, then consider this: the film is a sort of adaptation of one of Jane Austen's famous works, Emma. Seeing as this movie's still being talked about more than the Gwyneth Paltrow adaptation of the actual material, you could probably add "superior literary adaptation" to this film's resume.
Black Hawk Down
While Ridley Scott is primarily known for his sci-fi masterpieces, with some epic historical films mixed in for good measure, he also knows how to make a damned good war movie. Black Hawk Down is his portrait of combat, namely its highs and its lows during the Battle of Mogadishu. It's a film that more than likely made his brother Tony proud, as it feels almost exactly like the type of film he'd make. Boasting performances from up-and-coming stars and veteran character actors, this war torn saga is a hell of an experience to watch, and an excellent test for your surround sound speakers.
Clerks
Ask anyone what their favorite Kevin Smith film is, and most of the time you'll find folks in one of two columns: those who love Clerks and those who love Chasing Amy. While we're not going to join that fight any time soon, we can tell you that the former is on its way out of the Netflix streaming line-up. So unless you own the film on physical media or have a disc by mail subscription, this is your last chance to laugh at this black and white classic. And no matter what it tells you, you probably won't be interested in Yoga Hosers.
Elizabeth
Folks are raving about Netflix's recent hit original series The Crown, which one would see as a perfectly good reason to keep Shekar Kapur's Elizabeth on the streaming roster. Alas, this film is leaving into the digital ether next month, with is a damned shame considering it contains two things we're big fans of: lush visuals and Cate Blanchett. If you're interested in some more royal British intrigue and have already blazed through Queen Elizabeth II's initial adventures, you shouldn't have a problem enjoying this historical prequel.
Mission: Impossible III
Without J.J. Abrams taking over the reins of Mission: Impossible III, there's a good chance the series may have died a quiet death. Considering John Woo's sequel prior to Abrams' revival was a messy and disappointing affair, the style and substance that J.J. injected into the third mission helped bring the series back to its roots. A confident debut for Abrams as a feature film director, we also probably wouldn't have had the Star Trek reboot or Star Wars sequel that most of us have come to respect. If you're new to the series, this is a good place to start if you're looking to avoid the more dated entries in the canon.
Star Trek: Nemesis
Bold opinion time, folks: Star Trek: Nemesis is actually a really good Trek film. Not only is it a darker spin on the Wrath of Khan story structure, it's a fantastic reminder of why The Next Generation crew worked so well together. Between the somewhat sour opinions of fans and opening against The Lord of the Rings: The Two Towers, this movie was lost in the shuffle upon release and has never gotten its due. Which is sad, because Tom Hardy makes for a hell of an evil Picard clone, and he has Ron Perlman as an assistant by his side. Two very solid reasons to check this one out.
The Machinist
Christian Bale is, as the kids would say, "so fucking method." Nowhere was this more present than in The Machinist, a thriller in which he plays the titular professional who find himself unable to sleep. Not only does he start to waste away physically, but mentally he's not doing so hot either. Cue the descent into nightmarish madness, and Bale actually losing a scary amount of weight to look like a walking skeleton that's losing its mind. Needless to say, you should save this one for a night/day that you want to get creeped out.
There Will Be Blood
Speaking of method performances, if you've never seen Daniel Day-Lewis go full tilt before, There Will Be Blood is a good place to start. His role of Daniel Plainview, ruthless oil man and all around cad, is one of the most captivating performances captured on film in the last couple of decades. While you may or may not enjoy the narrative that his character is contained in, the film is at the very least worth watching for Lewis' madness and Paul Dano's antagonistic relationship with Plainview. It's a conflict that erupts in an explosion of action and a very memorable catchphrase.
What's Eating Gilbert Grape
It took 22 years and five nominations for Leonardo DiCaprio to finally win a Best Actor trophy at the Academy Awards, as he took home the prize for The Revenant at last year's ceremony. Now, you can argue that the trophy was a long owed due for any of his previously nominated performances, and one that folks might lobby hard for is his role in What's Eating Gilbert Grape. To deliver that moving a performance at such an early age is something few actors are able to do. But to be able to keep hitting it out of the park for over two decades after? That is the stuff that Oscar wins are made of.
An Inconvenient Truth
Our first of two titles that have sequels coming in 2017, An Inconvenient Truth is the passion project of former Vice President Al Gore. A documentary based on Gore's speaking tour involving global warming awareness, it almost seems like this would be too dated a film to revisit. Yet, with concerns over the subject matter more relevant than ever, it's not only fitting to revisit this film, but it's also appropriate that An Inconvenient Sequel: Truth To Power recently opened at the Sundance Film Festival, with an eye on general release at some point this year.
Trainspotting
T2: Trainspotting is already out in the UK, with its US debut coming in March. So now is probably the best time to revisit Danny Boyle's seminal pop culture hit, Trainspotting. The only problem is, Netflix is yanking the flick mere weeks before the sequel comes to domestic theaters, so there's not going to be much time for you to do so. But, if there's some strange reason why you haven't seen this film in its decades of existence, then you should rush even quicker to your Netflix device of choice and take the ride. Just be ready for some vintage Danny Boyle trippiness.
CinemaBlend's James Bond (expert). Also versed in Large Scale Aggressors, time travel, and Guillermo del Toro. He fights for The User.
Your Daily Blend of Entertainment News
Thank you for signing up to CinemaBlend. You will receive a verification email shortly.
There was a problem. Please refresh the page and try again.