John C. Reilly Has An Important Role In Kong: Skull Island, Here's What We Know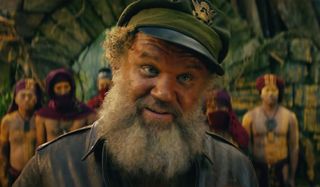 Tom Hiddleston, Brie Larson, and Samuel L. Jackson may be soaking up much of the spotlight from Kong: Skull Island, but let's not forget John C. Reilly. We've seen the actor pop into the film's trailers to offer some comedic relief, but he has a larger role to play in the story.
Kong: Skull Island, directed by Jordan Vogt-Roberts and delivered by Legendary and Warner Bros., doesn't waste time showing audiences the titular locale or Kong. The film opens on its sandy shores in the aftermath of a "World War II dog fight," producer Alex Garcia explained to reporters on the Hawaiian set. U.S. and Japanese pilots crash land on the beach and continue their skirmish through the trees until they reach a cliff: their death duel becomes moot when they come face to face with the King on the island. Said Garcia:
The U.S. pilot is Marlow, who's been on the island since that fateful day. When the secret scientific organization Monarch (the same from 2014's Godzilla) leads an expedition there years later, the crew comes into contact with the war veteran -- now grizzled, a bit nuts, living with a local village tribe, and played by John C. Reilly.
We won't get into too many spoilers, but suffice to say Marlow may also provide a means of getting through the dangerous terrain. Garcia explained:
Kong: Skull Island also features John Goodman as Bill Randa, a member of Monarch who spearheads the expedition; Tom Hiddleston as Conrad, a tracker and former member of the British Special Air Service tapped for the team; Brie Larson as Weaver, a war photographer with hopes of uncovering the true purpose of their mission; and Samuel L. Jackson as Lieutenant Colonel Packard, described as "Ahab and the whale" in terms of his mission to avenge the soldiers killed by Kong. Corey Hawkins (24: Legacy), Jason Mitchell (Straight Outta Compton), and Thomas Mann (Me and Earl and the Dying Girl) help round out the cast.
Monarch first discovers the island through the Landsat program, started in the early '70s as a means of mapping the earth through satellite photos. Humanity has been previously unaware of the destination due to the severe weather patterns surrounding it.
According to Brie Larson:
Kong: Skull Island opens in theaters March 10.
Your Daily Blend of Entertainment News