Which Classic Power Rangers Villains The Cast Wants To See In Power Rangers 2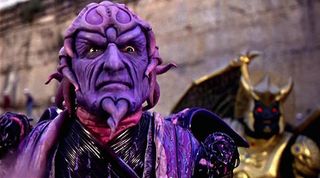 In terms of superhero universes, few franchises can rival Power Rangers when it comes to the villains. After hundreds of individual episodes (not to mention a few movies), the series has become packed to the brim with colorful and memorable bad guys. Dean Israelite's Power Rangers reboot returns to the source material to adapt Rita Repulsa (played with gusto by the endlessly enjoyable Elizabeth Banks), but future installments in the franchise could easily allow others to enter the fray. I recently spoke with the cast of Power Rangers about villains they would like to see in an eventual sequel, and they gave some compelling (albeit ridiculous) answers. Check out the video below to see our conversation.
So it is pretty clear that there's no one-size-fits-all answer when it comes to Power Ranger villains. You could throw pretty much any bad guy into the mix (from the Power Rangers franchise or otherwise), and it would work. Some of the answers make perfect sense (such as the Rangers fighting Whiplash from Iron Man 2) while others are utterly insane. Although Becky G's comment about a large villainous puppy seems somewhat absurd on the surface, it's worth mentioning that the Power Rangers have battled weirder foes before. Remember when they fought Pudgy Pig? Anything goes in this franchise. Dacre Montgomery's comments about the team facing off against a dragon also seem particularly important, because the Green Ranger uses a dragon-inspired Megazord against the Rangers. Is Montgomery further teasing Tommy Oliver in a sequel? We're not sure, but it sure sounds like it.
Out of all the answers that the Power Rangers cast gave to this question, one very specific villain stuck out: Ivan Ooze. Played by Raiders of the Lost Ark's Paul Freeman in Mighty Morphin Power Rangers: The Movie, Ooze is the original silver screen bad guy for this franchise. He's an infamous element from this franchise, so it would make a ton of sense for a future Power Rangers movie to adapt him and let this new generation face off against him and his Tengu Warriors.
Of course, there are still a few other badass Power Rangers villains that the cast of the film did not even bother to bring up. Icons like Lord Zedd and Scorpina could easily translate onto the silver screen, and it is not hard to imagine that the folks behind this new Power Rangers franchise are already thinking of ways to bring them into the fold. The series is off to a solid start with this awesome revival, so let's keep our fingers crossed that we get to see plenty more legendary Power Rangers bad guys on the big screen at some point in the near future.
Dean Israelite's Power Rangers is now in theaters. Make sure to check it out, and take a look at our comprehensive movie premiere guide for more detailed information about the rest of 2017's most highly anticipated theatrical debuts!
Originally from Connecticut, Conner grew up in San Diego and graduated from Chapman University in 2014. He now lives in Los Angeles working in and around the entertainment industry and can mostly be found binging horror movies and chugging coffee.
Your Daily Blend of Entertainment News
Thank you for signing up to CinemaBlend. You will receive a verification email shortly.
There was a problem. Please refresh the page and try again.