Which Marvel Hero Chris Pratt's Son Likes More Than Star-Lord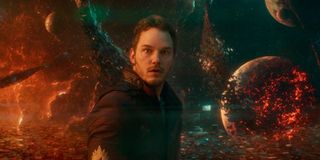 As more and more superheroes find themselves adapted to the big screen, the options for picking one's favorite continue to expand. In the Marvel Cinematic Universe alone, we have options like Iron Man, Captain America, Ant-Man, and The Incredible Hulk. Guardians of the Galaxy's Star-Lord has become a particular fan-favorite over the last few years, but now it appears that Chris Pratt's son prefers Peter Parker to Peter Quill. Pratt recently opened up while promoting Guardians of the Galaxy Vol. 2 and explained his son's preference for Spider-Man, saying:
Chris Pratt has developed a very particular, self-deprecating sense of humor over the course of his career in Hollywood, and his recent statement to Bollywood Helpline feels like vintage Star-Lord. While most kids would do just about anything to have Star-Lord as a father, it seems that James Pratt is a bit more selective of his favorite superheroes -- showing an apparent affinity for Spider-Man over the cosmic outlaw. Pratt continued to explain that Spider-Man's powers are what make him preferable to Star-Lord. Let's face it; Web Shooters ARE cooler than laser guns.
It's not hard to understand why Chris Pratt's son would like Spider-Man more than Peter Quill. After all, the Web-Head is the youngest hero in the entire Marvel Cinematic Universe (and one of the most youthful superheroes in the whole of Marvel lore), so he's unquestionably the easiest hero for a young kid to empathize with and understand. That's the core appeal of Spider-Man, and what makes him so beloved by fans all over the world; he's a real kid with real problems. By contrast, Star-Lord lives in a heightened reality that's far harder to comprehend.
That said, it doesn't sound like Chris Pratt has anything to worry about concerning sheer popularity. Guardians of the Galaxy Vol. 2 has easily become one of (if not THE) most highly anticipated comic book blockbusters of the year, and the film is already on track to make an absolute killing at the box office. Couple that with the fact that James Gunn's Guardians of the Galaxy sequel has garnered mostly positive reviews, and it becomes increasingly apparent that there's still a place for Star-Lord in the hearts of fans all over the world. That's the beauty of comic books: everyone can have his or her favorite character. There are no wrong answers.
Guardians of the Galaxy Vol. 2 will debut in theaters on May 5, 2017, but Chris Pratt's son's favorite superhero will make his next silver screen appearance when Spider-Man: Homecoming premieres later this summer on July 7, 2017.
Originally from Connecticut, Conner grew up in San Diego and graduated from Chapman University in 2014. He now lives in Los Angeles working in and around the entertainment industry and can mostly be found binging horror movies and chugging coffee.
Your Daily Blend of Entertainment News
Thank you for signing up to CinemaBlend. You will receive a verification email shortly.
There was a problem. Please refresh the page and try again.