How Batman Returns Made Michelle Pfeiffer's Catwoman Suit So Tight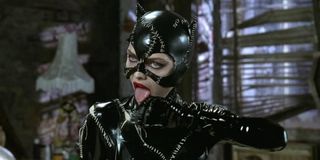 With the 25th anniversary of Tim Burton's Batman Returns upon us, it's important to look back and examine why this film has become so iconic over the years. There are a number of reasons, but one of the most prominent of the bunch is Michelle Pfeiffer's Catwoman -- and her instantly recognizable, skintight outfit. Pfeiffer recently opened up about how she managed to pack herself into that uncomfortable suit, and it apparently involved vacuum sealing her into it like a piece of meat. The actress explained:
We all look back fondly on Batman Returns as a watershed moment in the comic book movie genre, but it doesn't sound like Michelle Pfeiffer looks back fondly on the Catwoman costume. Specifically, the crew used powder and vacuums to make it as tight as physically possible (including the mask), which created the suit's trademark form-fitting appearance. Moreover, the outfit's razor-sharp claws proved incredibly difficult to work with, and Pfeiffer consistently found herself caught on various parts of the set. Put all of those things together, and it doesn't sound like playing Catwoman was the easiest process.
Beyond that, the excessively tight Catwoman suit presented Michelle Pfeiffer with another issue not uncommon among comic book movie actors. Specifically, she made sure to mention in her remarks to THR that the Catwoman outfit offered no practical way of going to the bathroom during shooting. The woman just couldn't catch a break, could she?
Of course, while we will always love the iconography of the skintight Batman Returns Catwoman suit, it only represents one aspect of a larger picture. Michelle Pfeiffer's portrayal of Selina Kyle (both in and out of the costume) has become legendary in the two and a half decades since Tim Burton's film debuted. For many, she has become the definitive live-action Catwoman and the gold standard of the character. Through a combination of furious strength and somber vulnerability, Pfeiffer uniquely captured Ms. Kyle, and (despite the numerous changes Burton makes to the Batman lore) she feels like the comic book Catwoman.
In honor of Batman Returns' anniversary, check out a clip of one of Michelle Pfeiffer in the role, below.
Given how iconic and beloved this particular Catwoman performance has become, it will be interesting to see how the character evolves as the DCEU moves forward. Specifically, the consensus seems to be that Catwoman will round out the titular team roster of villains in David Ayer's Gotham City Sirens, which means an entirely new actress will need to enter the DC Extended Universe within the next few years. Whether or not this newcomer will borrow liberally from Pfeiffer's version of the character remains to be seen, but the next Catwoman would be wise to look to what made her predecessor work so well -- costume and all. Maybe they can get around the vacuums next time, though.
CinemaBlend will bring you more Catwoman news as new details become available to us. Gotham City will make its next appearance in the DCEU when Zack Snyder/Joss Whedon's Justice League debuts in theaters later this year on November 17, 2017.
Your Daily Blend of Entertainment News
Originally from Connecticut, Conner grew up in San Diego and graduated from Chapman University in 2014. He now lives in Los Angeles working in and around the entertainment industry and can mostly be found binging horror movies and chugging coffee.