How Long Avengers: Infinity War Is Actually Going To Be, According To Joe Russo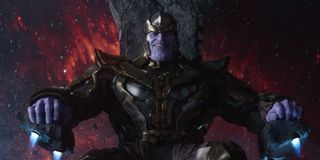 Both The Avengers and Avengers: Age of Ultron had a lot to accomplish in their respective years to move the Marvel Cinematic Universe forward, but Avengers: Infinity War soars past both of them and then some. Besides finally putting Thanos at the forefront, next year's blockbuster will bring together not just everyone who's served as one of Earth's Mightiest Heroes, but the Guardians of the Galaxy and select other superheroes. Needless to say that there will be a lot packed into this story, and co-director Joe Russo admits that when the final version of Infinity War is released in theaters, it will probably be at least two and a half hours, if not longer. When asked about where the movie's current cut is at Comic-Con, Russo responded:
So far the longest MCU movie is Captain America: Civil War at 147 minutes, and The Avengers and Avengers: Age of Ultron follow close behind at 143 minutes and 141 minutes, respectively. So at the very least, Avengers: Infinity War will rest comfortably in this same area, although given how massive in scale the story is set to be, it's hard to imagine the movie not eventually moving closer to the three hour mark. Excluding extended cuts of movies like Watchmen and Batman v Superman: Dawn of Justice, currently The Dark Knight Rises ranks as the longest superhero movie at 165 minutes.
Joe Russo also acknowledged to Collider in the interview that he, his brother Anthony and the rest of the creative team have to "go big" on Avengers: Infinity War, as they have to take 10 years worth of Marvel storytelling (including "disparate" characters, themes and motivations) and pull all of that into a "unified narrative." Since Infinity War is starting to close this era of the MCU, it's impossible for the movie to do everything it needs to if the running time is under two and a half hours. As for 2019's Avengers 4, Russo said that since they haven't started shooting that yet, it's hard to say what that movie's running time will be, but he imagines Avengers 4 will likely be similar in length to Infinity War since it will also be packed with a lot of characters.
After spending years relying on others to collect the Infinity Stones for him, Thanos finally decided to get the job done himself in Avengers: Age of Ultron, and Avengers: Infinity War will show him trying to obtain all six of these artifacts so that he can rewrite reality. It will take everything the MCU heroes have to defeat the Mad Titan and the Black Order, and the outcome of this conflict, as well as the events of Avengers 4 the year after, will leave lasting repercussions for this universe, including some longtime favorites meeting their demise.
Avengers: Infinity War will be released in theaters on May 4, 2018.
Connoisseur of Marvel, DC, Star Wars, John Wick, MonsterVerse and Doctor Who lore. He's aware he looks like Harry Potter and Clark Kent.