One Actress Wonder Woman Director Patty Jenkins Wants To Work With Again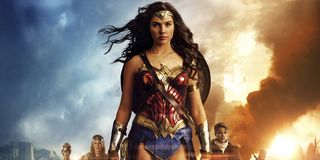 Following the massive success of her first Wonder Woman film, director Patty Jenkins is in negotiations to take on the DC Comics sequel. While it may be some time before we hear about any Wonder Woman 2 casting, Jenkins has today revealed that there is one actress in particular that she's anxious to work with again. That actress is none other than Charlize Theron. Jenkins directed Theron in the star's Academy Award-winning Monster performance. While it won't necessarily be a role in Wonder Woman 2, Jenkins promises that she and Theron are likely to reteam for a future project, noting,
Well before cameras roll on Wonder Woman 2, Patty Jenkins will be helming the upcoming six chapter TNT miniseries One Day She'll Darken. The project does show off Jenkins' fondness for reteaming with actors, however, as Wonder Woman's own Chris Pine is set to both headline and executive produce One Day She'll Darken.
It sounds like whatever upcoming project(s) Charlize Theron and Patty Jenkins may have up their sleeves probably have little to do with Wonder Woman, especially since it sounds like they've been considering a second teamup for some time. Still, Theron is definitely no stranger to franchise sequels. In just the last five years, she's appeared in Prometheus, Mad Max: Fury Road and The Fate of the Furious. She even launched a franchise with 2012's Snow White and the Huntsman, returning for last year's followup, The Huntsman: Winter's War. It remains to be seen, meanwhile, whether or not the actress' most recent project, Atomic Blonde, will launch a franchise all its own. Director David Leitch previously teased that his stylistic Cold War action thriller could easily serve as a launching point for future big screen adventures.
Still, Patty Jenkins' comments to ET make it easy to imagine Charlize Theron in the DC Universe Extended Universe. After all, the star's immense talent and transformative abilities mean that there's really no limit to who she could play. It's not hard at all to imagine Theron as a Wonder Woman foe like the sorceress Circe, banished from Themyscira and seeking magical vengeance. It would also take a ginormous star like Theron to fill the massive shoes of the size-shifting Giganta. Then again, it's pretty hard to argue that Alex Ross' take on Priscilla Rich, the Golden Age Cheetah, doesn't fit Theron to a T:
Whatever the case may end up being, rest assured that we'll have all the latest for you right here as it develops. In the meantime, take a look at 9 DC Villains We Want To See In Wonder Woman 2 and have some fun imagining Charlize Theron in all the roles.
Your Daily Blend of Entertainment News
Thank you for signing up to CinemaBlend. You will receive a verification email shortly.
There was a problem. Please refresh the page and try again.