The Real Reason Jennifer Lawrence Returned For X-Men: Dark Phoenix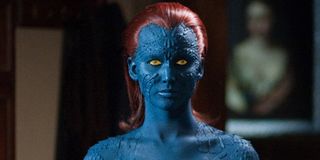 Part of the core X-Men franchise ever since Matthew Vaughn's X-Men: First Class in 2011, Academy Award winner Jennifer Lawrence will be back for next year's X-Men: Dark Phoenix, marking her fourth big screen appearance as the shapeshifting mutant, Mystique. Lawrence had previously revealed that her contract with 20th Century Fox was up after last year's X-Men: Apocalypse and there was some doubt as to whether or not she might return for the new film. After all, the star had explained in the past that dealing with the Mystique makeup process is not fun. Still, Lawrence was motivated to join Dark Phoenix because she felt indebted to her fans. She explained:
On the one hand, Jennifer Lawrence's return is great for X-Men fans. After all, we saw at the end of last summer's adventure that her version of Mystique had finally rejoined the X-Men team. It would be very strange to start the next adventure without her being part of the lineup. Still, in the time since her 2011 X-Men debut, Lawrence's stardom has has surged. In 2013, she took home an Oscar for her leading performance in David O. Russell's Silver Linings Playbook, and has since been nominated two more times for her work in Russell's subsequent features, American Hustle and Joy. Add to all that prestige the fact that Lawrence headlined the billion dollar-plus Hunger Games franchise, and you have a talent who doesn't really need to act in any film she doesn't want to do.
As great a talent as Jennifer Lawrence is, however, it's not hard to sympathize with fans suffering from Mystique fatigue. After all, Mystique isn't a particularly central character in the original X-Men comics. In fact, the original book had been running for 15 years before the shapeshifter made her first appearance in 1978 as a Captain Marvel villain. On the big screen, it has been a different story. Since Rebecca Romijn's debut as an older Mystique in Bryan Singer's first X-Men film in 2000, Mystique has been a major part of the film franchise, appearing in every central X-Men movie to date. Thanks to her mutant abilities, X-Men: First Class even gave us Lawrence and Romijn performances in the same film.
Mystique's arc has, unfortunately, gotten a little muddied thanks to the franchise's shifting timelines. Hopefully X-Men: Dark Phoenix will have development for the character that lets her do something other than continuously shift allegiances back and forth between Professor Xavier and Magneto. With three X-Universe movies arriving in 2018, too, the franchise should be expanding in some interesting ways. Since we don't yet know the specifics of the star's new contract, it may very well also be the case that, in addition to her above comments to Digital Spy, Jennifer Lawrence wants to make sure she's around when the fun really starts.
X-Men: Dark Phoenix opens in theaters on November 2, 2018, and be sure to check back for more updates on the X-Men movies universe as they become available. In the meantime, you can read about everything we know coming from 20th Century Fox's side of the Marvel universe.
Your Daily Blend of Entertainment News