Could Hayley Atwell Be Back In Avengers 4?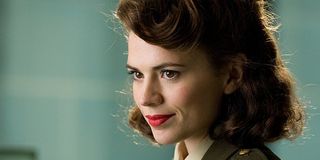 Throughout the history of the Marvel Cinematic Universe, Peggy Carter has been an important part of its history. Fighting alongside Captain America, valiantly committing herself to the SSD, and even acting as a co-founder of S.H.I.E.L.D., she's helped shape the world that the MCU lives in to this very day. And if a recent photo we've seen is any indication, Hayley Atwell's legendary ass-kicker just might be returning for Avengers: Infinity War. For reference, here's the photo she shared:
Obviously, the portion of this image that has us thinking Avengers: Infinity War just might have another possible surprise cast-member on its docket, is the presence of those black dots on Ms. Atwell's face. Usually, when an actor has dots like those painted on their face, there's a good chance that some sort of CGI manipulation is going to be used in the scene they're filming. Once their face is scanned into the computer, those reference dots help the effects artists create effects, like say de-aging or aging up an actor like Atwell. Now why on Earth would they want to do that?
There is a distinct possibility that this new photo Atwell has shared, describing her "process", could be part of her work on Christopher Robin, the live-action film where she will play wife to Ewan McGregor's all grown up protagonist from A.A. Milne's Winnie The Pooh series. Considering her role in that film, we're not so sure that's what's happening here, unless there's a particularly inspired sequence where Hayley Atwell turns into either a Heffalump or Woozle in a hallucination suffered by her on-screen husband. But, stranger things have happened, so we won't totally count this theory out.
However, there's another photo that this Instagram reminds us of, and it's one that comes out of Captain America: The Winter Soldier. That film included a scene of an older Peggy and the modern Steve Rogers sharing a conversation at her bedside, as the woman he loves is suffering from the ravages of time. A set photo of that moment that's made the rounds on the internet saw Hayley Atwell sporting very similar dots on her face, when filming the role of the aged Agent Carter, confined to her bed.
But the biggest piece of speculation that has us thinking this photo could hint at the return of Peggy Carter, no matter what her age may be, is a recent story we reported on that hinted that Avengers: Infinity War's big D23 presentation said that "Time can fix anything". So, naturally, the Time Stone could be used to turn back the clock, allowing Cap and Peggy to finally share that dance they'd always planned on having. With this big event film promising the end for some of the phase 1 heroes, this could be part of a huge swan song for Captain America.
Of course, we probably won't find anything out until Avengers: Infinity War opens on May 4th, 2018; but even then there's a chance that we won't see Atwell until the following Avengers film, which will be in theaters on May 3rd, 2019.
Senior Movies Contributor
CinemaBlend's James Bond (expert). Also versed in Large Scale Aggressors, time travel, and Guillermo del Toro. He fights for The User.
Your Daily Blend of Entertainment News
Thank you for signing up to CinemaBlend. You will receive a verification email shortly.
There was a problem. Please refresh the page and try again.