Thor: Ragnarok's Taika Waititi Joked About All He Put Cate Blanchett Through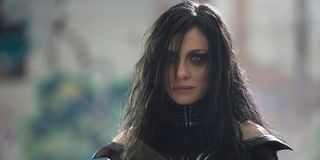 The Marvel Cinematic Universe earned a major casting win when it recruited Cate Blanchett to play Hela, the Asgardian goddess of death, in Thor: Ragnarok. Being able to play a main antagonist in a Marvel movie is an honor by itself, but with director Taika Waititi infusing the third Thor installment with more humor and cosmic craziness than its predecessors, Blanchett and her cast-mates were in for a wild ride. In fact, Waititi took great joy in messing with Blanchett about select scenes she would have to take part in during the production. Waititi recalled:
Make no mistake, the previous Thor movies definitely had their fair share of weird content, from Frost Giants and Dark Elves to the Destroyer armor and the Aether (a.k.a. the Reality Stone). But Thor: Ragnarok takes the cake when it comes to weirdness not just in the Thor series, but the rest of the MCU as well. Hela's zombie army and the Fenris Wolf was just the tip of the iceberg. Granted, much of Thor: Ragnarok's crazier elements were from the scenes set on Sakaar, but the Asgardian moments alone were enough material for Waititi to have some fun with Blanchett, as he told EW. The superhero movie genre can produce some odd stories, but hearing what Thor: Ragnarok has in store could make even a person experienced in the realm of fantasy (like Blanchett has) possibly do a double-take.
Even if you haven't had the chance to see Thor: Ragnarok yet, you can probably tell by the trailers and marketing that Cate Blanchett's Hela is one of the most dangerous MCU villains yet. Imprisoned for thousands of years by Odin, she awakens in Thor: Ragnarok and wastes no time in attacking Asgard, paving the way for the apocalyptic event Ragnarok to potentially be unleashed. We won't post any spoilers for the movie here, but fortunately for Marvel, it didn't take the studio long to convince Blanchett to join the threequel, as she was enticed by the prospect of playing someone who destroy's Thor's hammer early into the movie. Sure, Hela's costume posed a challenge for both the visual effects team to create in post-production and for Blanchett to imagine looking intimidating during principal photography, but in the end, it looks like Hela will go down as a memorable antagonist in the MCU mythos.
Thor: Ragnarok is now playing in theaters, and whether you've already seen the God of Thunder's latest adventure or are saving your viewing for this weekend, be sure to read our review of the movie. As for the year's remaining theatrical offerings, look through our 2017 premiere guide for release date information.
Your Daily Blend of Entertainment News
Connoisseur of Marvel, DC, Star Wars, John Wick, MonsterVerse and Doctor Who lore. He's aware he looks like Harry Potter and Clark Kent.