Watch Chris Hemsworth Pay Tribute To Thor's Fallen Hammer In New Video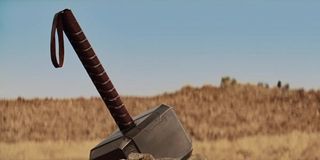 Warning: SPOILERS for Thor: Ragnarok ahead!
Thor: Ragnarok promised to be the most explosive and shocking (figuratively and literally) of the Thor movies, and judging by the critical reaction, it delivered. Thor Odinson went through a lot in the threequel, including losing his trusty hammer, Mjolnir, during his first encounter with Hela, the Asgardian goddess of death. Marvel revealed this major plot twist when the Thor: Ragnarok teaser trailer dropped in April, but now that the movie is out, Chris Hemsworth has shared a tribute video for the God of Thunder's fallen weapon, which you can watch below.
Thor and Mjolnir had some good times together over the last millennia, and even though Thor wasn't the hammer's first holder, it's safe to say that he did the most good with it. This video, first posted on Chris Hemsworth's social media accounts, is a nice highlight reel of Mjolnir's time in the MCU, as we see some of the hammer's greatest hits (being freed from its rocky location in Thor, blasting Chitauri invaders out of the sky in The Avengers, etc) accompanied by Thor describing its origin and capabilities to Korg during Ragnarok. Alas, Mjolnir is no more, and when Thor tries using a different hammer in the Sakaar weapons room at the end of the video, he's understandably disappointed when it doesn't immediately return to his hand like Mjolnir did.
Of course, Mjolnir wasn't Thor's only loss during Thor: Ragnarok. After discovering that Loki had been masquerading as their father, Odin, since the end of Thor: The Dark World, the Odinson and his deceptive adoptive brother found the All-Father in Norway, but he passed away soon after. Fast-forwarding past Thor's time on Sakaar, where he met Valkyrie and reunited with Hulk, our main hero eventually made it back to Asgard to overthrow Hela, but during his battle with her, he lost one of his eyes.
Thor thankfully bounced back after experiencing a vision from the late Odin which allowed him to fully channel his thunder and lightning powers for the first time. Soon after, however, Thor realized that in order to truly defeat Hela, he needed to unleash Surtur and fulfill the prophecy of Asgard being destroyed by the fire demon. Fortunately he and his allies were able to rescue all of Asgard's citizens before their world was annihilated, and now they're leading back to Earth where they can resettle. And while Thor no longer has Mjolnir, the hammer's loss led to him becoming more powerful than ever. The timing for that couldn't be better, as he'll soon join the other leading MCU heroes in fighting Thanos and the Black Order.
Whether you've already seen Thor: Ragnarok or haven't had the opportunity to go to the theater yet, be sure to read our review of the movie. Thor will return for Avengers: Infinity War on May 4, 2018.
Connoisseur of Marvel, DC, Star Wars, John Wick, MonsterVerse and Doctor Who lore. He's aware he looks like Harry Potter and Clark Kent.
Your Daily Blend of Entertainment News
Thank you for signing up to CinemaBlend. You will receive a verification email shortly.
There was a problem. Please refresh the page and try again.