Watch Part Of Pitch Perfect 3's New Riff-Off Sequence Before The Movie's Release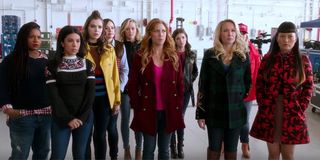 We're right in the throes of the holiday movie season right now, which means there are a lot of great movies in or heading into theaters. However, it also means there are a lot of movies to keep track of. Which is why we'll totally forgive you if you haven't caught the riff-off from Pitch Perfect 3 yet. Luckily, Universal has made it all possible, and you can check out the riff-off clip from the new movie, below. Be forewarned, that it does really give us a full look at the riff-off in question, so if you want it to be a surprise, go ahead and check out one of our other lovely articles.
If you know anything about the Pitch Perfect franchise, you should know that one of the big hallmarks of any of the movies is that they all have a fun riff-off scene that brings joy to audiences everywhere and also showcases the vocal skills of the other musical acts that the Bellas will be competing against. The forum and the other acts change in each movie, and in the case of this clip, the Bellas are being given a tour of their new digs, when some random lady scoffs at them, mentioning they just do other people's music. Of course, that doesn't go over well with the ladies, and Fat Amy suggests a riff-off.
Songs in the video include "Let's Get This Party Started" by Pink, "Shut Up And Dance with Me" by Walk the Moon, "Ignition Remix" by R. Kelly and a Dr. Dre track. Of course, the other bands in this new forum are, well, actual bands. They have a singing component, but also musical instruments, presenting a particular challenge to the Bellas, who are not technically as exciting because they aren't a full band.
If you've been keeping tabs on the Pitch Perfect 3 trailers, the movie will pick up after the Bellas have all graduated from college. You'd think life might be great, but most of the Bellas are stuck in (some wild) dead-end jobs. They all seem to miss singing, and so when the opportunity comes up to join a USO tour overseas, they all jump in. Although it looks like they will totally rub the other groups the wrong way from the get-go. Somehow, Gail and John will also worm their ways into this particular USO tour, and I can't wait to see how that is explained.
Sadly, it looks as if Bumper won't be around this time around, as Skylar Astin has confirmed previously there will be no Treblemakers in the new movie. There will be bands, and Orange is the New Black's Ruby Rose, among others, have joined the film this time around.
Pitch Perfect 3 will finally hit theaters on December 22. In the meantime, take a look at the trailer for the upcoming movie, or go ahead and take a look at all the movies the sequel will be competing with this holiday season. It's an interesting list.
Your Daily Blend of Entertainment News
Reality TV fan with a pinch of Disney fairy dust thrown in. Theme park junkie. If you've created a rom-com I've probably watched it.