Ryan Reynolds Invites Drugged Up Superfan To Deadpool 2 Premiere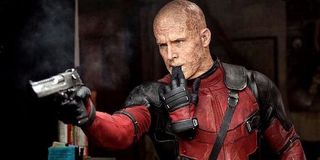 Pain medication is certainly helpful ensuring that you aren't crying out in agony during a medical or dental procedure, but often times the after effects from the medication can make one loopy, thus resulting in saying some weird and crazy things. In the case of one Deadpool fan, who was drugged up due to visiting the dentist, he started babbling about how he was worried he'd missed the Deadpool 2 premiere. The video of his drug-induced has since been watched nearly 820,000 times, and its viewers include Ryan Reynolds, who decided to reward this fan's passion even while not in his right mind by inviting him to the Deadpool 2 premiere in May. Here's how Reynolds passed along the good news.
If there's one lesson to be taken away from this, it's that if you're with someone who's heavily medicated after visiting the dentist and they start expressing enthusiasm for an upcoming blockbuster, get it on video and post the footage to social media. If you're lucky and it goes viral, it's possible one of said movie's stars may see it, and they'll feel generous and invite that fan to the world premiere. Such is what happened to James D. Eversole Jr., and while he might not be 100% recovered from his dental procedure yet, at least he has the Deadpool 2 premiere to look forward to in five months. He should also be thankful that he hasn't needed to have his "wisdom-testicles" removed like Ryan Reynolds did.
You can watch Eversole's original video below, which includes him asking for an ice cream prescription for the pain and saying he wants to "bang" his wife when they get home.
Although no specific plot details about Deadpool 2 have been revealed yet, the sequel will see Wade Wilson alongside familiar faces like Negasonic Teenage Warhead, Colossus and Blind Al, as well as newcomers like Cable and Domino (their introduction will set up the X-Force movie), as he deals with a new evildoer (Black Tom Cassidy), searches for the best-tasting chimichanga and continues to break the fourth wall. Atomic Blonde director David Leitch took over helming duties from Tim Miller, and Rhett Reese, Paul Wernick and Ryan Reynolds wrote the script, with help from Drew Goddard.
For those not attending the world premiere in May, you can see Ryan Reynolds back in action as the Merc with the Mouth when Deadpool 2 hits theaters on June 1. To find out what else will be released in theaters over the course of the year, browse through our 2018 premiere guide.
Your Daily Blend of Entertainment News
Connoisseur of Marvel, DC, Star Wars, John Wick, MonsterVerse and Doctor Who lore. He's aware he looks like Harry Potter and Clark Kent.