Zack Snyder Confirms A Deleted Justice League Scene Has Bigger Meaning For Superman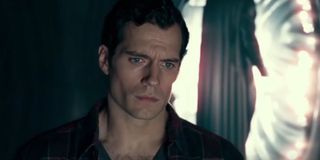 Now that Zack Snyder's Justice League has debuted digitally, fans have had the chance to go into its special features and dissect its deleted scenes. Among the story elements added to the home release, the scene in which Superman (Henry Cavill) passes his black suit and chooses his traditional outfit stands out as one of the most intriguing. Fan theories about the importance and significance of the scene have circulated since it made its way on to the internet, but now it looks like Zack Snyder has made his voice heard and homed in on one specific take on the sequence. Specifically, it seems like Superman's wardrobe choice has implications that relate back to Man of Steel.
The black suit scene already mirrors many shots from Man of Steel, and Zack Snyder seems to have confirmed that this isn't an accident. In fact, Vero user Nick Albright drew parallels between the moment in which he chooses the vibrant, classic Superman suit, and the quote from the first DCEU movie in which Jonathan Kent (Kevin Costner) talks to Clark about the decision that he will one day have to make about choosing to "stand proud in front of the human race." Though the sequence doesn't directly reference that quote or feature a ghostlike appearance by Pa Kent in the same way that Batman v Superman: Dawn of Justice did, Snyder has confirmed this theory's validity, noting:
Zack Snyder's confirmation didn't stop there. Elsewhere in his answer to that theory on Vero, the director explained that this sequence was meant to serve as the moment in which the real Superman shows up. His birth on Krypton eventually led to his arrival on Earth, and his rebirth in the same pool that created Doomsday spawned the version of the Man of Tomorrow that fans of the comics could recognize. This explanation also seems noteworthy because it very much lines up with Henry Cavill's remarks about how Justice League offers fans the first glimpse of the "true Superman" in the DCEU.
You can check out the "stand proud in front of the human race" scene from Man of Steel, below, to see how these themes all tie together.
Now that Zack Snyder has taken to the internet to chime in on that specific deleted scene, we will have to keep our eyes and ears open for more details about the other sequences from the rumored "Snyder Cut" that didn't make it into the final cut of Justice League. Chief among these deleted scenes is the rumored inclusion of Darkseid, which presumably would've taken the focus off of Steppenwolf (Ciaran Hinds) and hinted at a much bigger looming threat.
Justice League is currently available on Digital HD, and the DVD and Blu-ray editions of the film will hit shelves on March 13. In the realm of 2018's superhero movies, make sure to watch out for the first Arthur Curry (Jason Momoa) adventure when James Wan's Aquaman premieres in theaters on December 21.
Your Daily Blend of Entertainment News
Originally from Connecticut, Conner grew up in San Diego and graduated from Chapman University in 2014. He now lives in Los Angeles working in and around the entertainment industry and can mostly be found binging horror movies and chugging coffee.