Glass: Everything We Know About M. Night Shyamalan's Unbreakable Sequel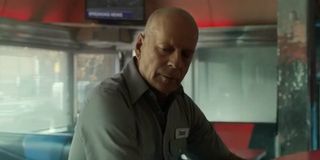 Sure, the Marvel Cinematic Universe, the X-Men franchise, and the DCEU may currently have reasonably secure vice grips on the superhero world, but there's another comic book-themed film series that has returned to wow audiences. M. Night Shyamalan came back in a major way with Split last year, and the secret reveal of it as a stealth sequel to Unbreakable has riled up his fan base in a significant way. Now, shifting focus away from the Split narrative, Shyamalan is about to bridge the gap between Unbreakable and Split with the upcoming release the third film in his trilogy, Glass.
That's the film that we are going to talk about today. Glass remains mostly shrouded in mystery, but we're going to dive in and talk out anything and everything that you need to know about the film before it debuts on the big screen and brings these characters together. On that note, let's hop in and talk out one of the most apparent questions of them all: is this sequel even happening at all? Well, sit back, relax, and let's get into this long-awaited movie to find out.
Is Glass Happening?
Of course, we had to get to this question first. From the moment the credits rolled on Split, many fans were left wondering how the film's connection to Unbreakable would continue to evolve and become more fleshed out as M. Night Shyamalan continued his comeback that started with The Visit. Luckily, we did not have to wait very long to receive the first answer to this question, as Glass was quickly announced and put into production once it became clear that Split had turned into a box office hit for Shyamalan and Blumhouse -- earning $278 million globally against a $9 million budget. This film is happening, and it has already wrapped production.
When Is Glass' Release Date?
So, now that we know that Glass is definitely on the way, we also need to figure out when the film will actually debut in theaters for the world to see. Split seemingly struck gold by debuting mostly unopposed in January 2017 (for wide audiences, as the film screened on the festival circuit beforehand), and it looks like Glass has no intention of altering that successful framework. The next installment in this franchise will debut in theaters on January 18, 2019, which means that we have less than a year until David Dunn, Mr. Glass, and The Beast all return to the big screen!
What Is Glass' Rating?
As of right now, Glass does not have an official rating from the MPAA to determine the intensity of its content. That said, there are still a few ways for us to determine how it could be classified when it screens for the regulatory organization. Specifically, Unbreakable and Split both received PG-13 ratings when the time came to classify them, so there's ample reason to believe that Glass could do the same when it finally comes time to receive a rating.
Does this mean that a PG-13 rating is absolutely guaranteed for a film like Glass? Not necessarily. Movies like Logan have shown us that traditionally PG-13 franchises can make the jump to an R-rating if the right story comes along, so the possibility of a more intense narrative could force Shyamalan to take a more restrictive rating. Moreover, even though Glass is expected to cost more than Split, Shyamalan has admitted that it will still be a lower budget movie by Hollywood standards -- meaning it can take an R-rating and still expect to make a profit.
Who Is Glass' Director?
This one is pretty obvious. Just like with Split and Unbreakable, M. Night Shyamalan will once again step behind the camera for the next installment in this story. Moreover, Shyamalan also wrote the screenplay for the film, and he is serving as a producer on the project as well.
One thing that we definitely do not know right now is whether or not M. Night Shyamalan will insert himself into the movie in a brief cameo role. These scenes are usually incredibly quick, but given his history of doing them in most of his projects, it would make sense for us to assume that he will do the same on Glass as well.
What Is Glass' Story?
M. Night Shyamalan is a guy who likes to keep secrets and keep the plots of his movies held reasonably close to the chest. After all, his name has become synonymous with twist endings in the years since The Sixth Sense first debuted. Given that history of secrecy, we do not know the official plot of Glass just yet.
Having said that, there's still enough information out there for us to latch onto and figure out what to expect. The ending of Split shows Bruce Willis' David Dunn watching a TV report of The Beast's activities, thus suggesting that the threequel will pit the Unbreakable hero against the villain from Split. Beyond that, however, the title Glass suggests that the film will place the bulk of the story's attention on Samuel L. Jackson's Elijah Price a.k.a Mr. Glass, who apparently knows secret information about both of these men.
How Will Glass Connect Unbreakable And Split?
As mentioned earlier, although we don't specifically know exactly how Glass' story will play out, one very important thing that we need to hammer home is the fact that it will unite the continuities of Unbreakable and Split to form a full trilogy. The presence of David Dunn at the end of Split was not a simple Easter egg to suggest that these films might have a fleeting connection to one another; it was pure set up to lead into a major showdown between a hero and two villains.
Samuel L. Jackson As Mr. Glass
Just as the name of the film suggests, Glass will focus its story most heavily on Elijah Price, also known as Samuel L. Jackson's Mr. Glass. The character is a brilliant-yet-disturbed villain with an affinity for comic books and has a rare bone disorder that causes his bones to be as fragile and brittle as glass. In the Unbreakable universe, the only people that Elijah is genuinely close to are David Dunn (more on him later) and his mother (played by Charlayne Woodard in the first film, and expected to return in the third).
It has been almost two full decades since audiences last saw Elijah Price on the big screen, but the ending of Unbreakable specified that David Dunn led the authorities to him and brought about his arrest after learning that he caused all of the accidents that eventually found David. Based on the way people talk about Mr. Glass at the end of Split, it sounds like he may have largely faded from memory by the time the new movie rolls around.
Bruce Willis As David Dunn
The one character to appear in both Unbreakable and Split, Bruce Willis' David Dunn is the hero of this universe. Though resistant to using his supernatural invulnerability during the events of the first film, he eventually accepts his near godlike status as a real-life superhero and ultimately sets out in his security cloak to save innocent bystanders from harm.
With that said, it will be interesting to see where Glass finds David all these years later. We don't know if he has stayed active as a hero, or if he hasn't done anything with his gifts since his encounter with Mr. Glass in 2000. If the latter turns out to be the case, then he may find himself outmatched when forced to face off against the younger (and possibly deadlier) Kevin Wendell Crumb.
James McAvoy As The Beast
James McAvoy delivered a showstopping performance as Kevin Wendell Crumb during the events of Split and the reveal of The Beast at the end of the movie stands out as one of the scariest horror moments in recent memory. Now, The Beast has fully emerged, and he's going to return to the fray to wreak havoc on the world during the events of Glass.
Arguably the most interesting thing to note about the return of The Beast in Glass is how the archetype of the character will tie back to the events of Unbreakable. Although Kevin Wendell Crumb never actually appeared in the first installment in this trilogy (that we know of), Unbreakable makes reference to a "soldier" villain, which is the type of bad guy who fights with his hands instead of his mind. In the context of Glass, that's likely what we can expect from The Beast. He's fast, he's strong, and he's downright terrifying.
Anya Taylor-Joy As Casey Cooke
Between her roles in films like The Witch and Split (not to mention the horror-themed X-Men spinoff, New Mutants), Anya Taylor-Joy has slowly but surely become one of Hollywood's most impressive scream queens. Her performance as Casey Cooke in Split could've been easily foreshadowed by James McAvoy's portrayal of The Beast (not to mention every other identity in his brain), but she managed to deliver something equally engaging in her own right. Given the popularity of the character, it's incredibly exciting to know that she will return in the sequel to continue her arc.
The return of Casey Cook in Glass raises more questions than answers. The Beast let her live at the end of Split, and as he explained it, the presence of her scars makes her "more evolved" than other people. This could potentially indicate that she has her own abilities that she hasn't tapped into yet, and it also has us wondering who she will side with when the film debuts. Logically, David Dunn seems like a perfect ally for her to side with, but Shyamalan is known for twists so we won't be surprised if she ends up turning heel and working with the man who tried to kill her in 2017. In this world, pretty much anything seems possible.
Spencer Treat Clark As Joseph Dunn
One of the most surprising additions to the Glass cast came with the announcement of Spencer Treat Clark, who will return to the role of Joseph Dunn. Though his father made a brief appearance in the finale of Split, we have not seen or heard from Joseph in the years since Unbreakable first debuted in theaters back in 2000, which means that we have very little idea of what to expect from the older actor or his fictional counterpart.
On that note, it is worth remembering where we left Joseph when Unbreakable ended. Despite all of the drama that plagues the Dunn family in that film, the movie concludes with Joseph learning of his father's heroics, and a generally optimistic understanding of the fact that they have mended their relationship. Will Joseph still be on his dad's side all these years later as he heads off to fight The Beast? Only time will tell for sure.
Sarah Paulson
Last but not least, the principal cast for M. Night Shyamalan's Glass will be rounded out by none other than Sarah Paulson -- who has made a name for herself over the course of the last few years on the small and big screen for her compelling performances. Unlike the other members of the cast, we still have no idea whom she will play in the film (a character name has not even been announced yet), so it remains highly likely that the director is keeping her true identity a secret at this point.
That raises the question of which camp Sarah Paulson's character will come from. We know that Glass intends to incorporate supporting characters from Unbreakable and Split, so it is entirely possible that she could be an ally of David Dunn or The Beast. Then again, she could also be a bystander caught in the crossfire (like Betty Buckley's Dr. Karen Fletcher from the most recent film) or a completely neutral party. Given Paulson's penchant for eclectic roles in properties like American Horror Story, American Crime Story, and the upcoming Ocean's 8, nothing will surprise us.
Your Daily Blend of Entertainment News
Originally from Connecticut, Conner grew up in San Diego and graduated from Chapman University in 2014. He now lives in Los Angeles working in and around the entertainment industry and can mostly be found binging horror movies and chugging coffee.