The Cool Way Dwayne Johnson Surprised One Young Rampage Fan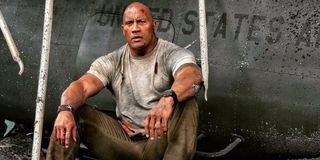 Rampage opened wide in theaters this weekend, and a lot of people went out and saw the movie. At one special screening, Dwayne Johnson even showed up to surprise fans. One fan in particular got more than he bargained for when one of the members of his party told Dwayne Johnson it was the kid's 12th birthday. The ever-generous The Rock surprised the young man by singing "Happy Birthday," and you can enjoy the experience, in all its low quality camera glory, below.
The young man, Vinny, reveals to Dwayne Johnson he just turned 12, and Johnson responds by belting out the formerly copyrighted lyrics to "Happy Birthday." He then invites the young man onstage, shakes his hand and talks to him about his favorite part of the movie which -- minor spoiler---involves Lizzie coming out of the water, a moment Johnson refers to as "badass."
All in all, it was likely a movie screening the young man will remember for the rest of his life. In addition, it's a moment that stuck out for Dwayne Johnson, too, as the actor took to social media to talk about how surprising the fans is a truly enjoyable part of the job. This isn't the first time The Rock has done something of this ilk, either. The Rampage star has been there for fans of all ages, and ahead of the Jumanji: Welcome to the Jungle release, he even surprised a terminally ill grandmother who kept a cardboard cutout of him by her bed. Following the release of San Andreas, Dwayne Johnson even invited the hero boy who learned CPR from the movie and saved his sibling's life to come to the set of Skyscraper to check out some movie magic. So he goes beyond social media fairly often to engage with fans.
Even if The Rock hadn't attended a showing of the brand new action movie, the numbers for the flick were still pretty solid. Opening weekend saw Rampage edge out ahead of popular horror flick A Quiet Place and bring in $34.5 million at the domestic box office. It's also pulled in an additional $114 million worldwide, and is on its way to making Warner Bros. at least a decent amount of money. Sure, it's cool that Dwayne Johnson also showed up at a movie screening and that became a viral memorable moment for the celebrity, but the trailers and word of mouth surrounding the video game adaptation did a lot on their own to get butts into seats.
Speaking of Rampage being a video game adaptation, the movie is currently the highest-reviewed video game movie of all time, edging out the recent Tomb Raider reboot with a positive Rotten Tomatoes score. That could change, but it's clear that Rampage has been a hit with a certain number of critics, and with an 81% audience score, it looks as if audiences, including young Vinny, are liking it a lot.
Reality TV fan with a pinch of Disney fairy dust thrown in. Theme park junkie. If you've created a rom-com I've probably watched it.
Your Daily Blend of Entertainment News
Thank you for signing up to CinemaBlend. You will receive a verification email shortly.
There was a problem. Please refresh the page and try again.