Deadpool 2 Marketing Win: X-Force Peter Has A Perfect LinkedIn Profile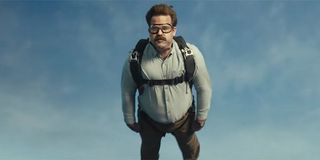 What a great job it must be to work on the marketing team for Deadpool 2. No idea is seemingly a bad idea, with crazy and outlandish and ridiculous being stamps of approval instead of criticisms. The latest marketing win for Deadpool 2 has to do with newest X-Force member and powerless person Peter. We know that Peter doesn't have the superpower of luck like Domino or the swordplay of Shatterstar, so what exactly are his qualifications? What does his CV look like and what skills and experience is he bringing to the table? Well, thanks to a LinkedIn page, we have some answers. Check it out:
Let's see what we have here. Nice headshot, no superpowers but that mustache certainly looks cinematic. It seems that Peter's primary experience and main job is in sales. In that field he has risen beyond just a salesman to become an assistant to, nay a regional sales manager. Appropriately enough, he sells Knives for Excalibur Cutlery Co. While I'm not sure how much he'll be using his sales skills as a part of X-Force (although he did get the job so...), knowledge of knives seems useful considering all the bladed weapons being sported by the team. This could also be a fun reference to the Marvel comics mutant team called Excalibur that has boasted at times Colossus and Juggernaut among its members.
It's also useful for companies to see what sort of person you are beyond just your work experience so Peter also notes that he is also a bee enthusiast who is actually a beekeeper, or an apiarist for all the laymen out there. While he just started with X-Force, Peter is keeping his LinkedIn page (opens in new tab) up to date and has already put his new role under his experience section. Take a look:
This is such brilliant marketing. The whole page is basically played straight with the exception of the X-Force bits. Under this experience section we see that Peter has had his job at Excalibur Cutlery Co. for a whopping 20 years. In fact, it doesn't look like he's ever had another job. But now, he's an X-Force member of about 2 months. He seems to be working both jobs and as a member of X-Force, he basically just follows orders. One has to wonder if Peter was having a midlife crisis or just simply realized he needed some adventure and excitement in his life after 20 years of cutlery sales, spurring him to apply for a super duper team.
There are a few other fun nuggets about Peter on the page as well. For one thing he was an Eagle Scout. That's useful right there. It's always good to be prepared and the team needs that since I see Wade Wilson as more of the kind of guy who just sort of wings it. Peter is interested in the Israeli martial art, Krav Maga, which might come in handy. He is also interested in Dell and the Ford Motor Company, so...yeah.
This whole thing is another funny and clever win for the Deadpool 2 marketing team and I can't wait to see how Peter's sales abilities and knowledge of bees helps out the team in this movie. Deadpool 2 is in theaters this weekend.
Your Daily Blend of Entertainment News
Nick grew up in Maryland has degrees in Film Studies and Communications. His life goal is to walk the earth, meet people and get into adventures. He's also still looking for The Adventures of Pete and Pete season 3 on DVD if anyone has a lead.