DC Universe Streaming Service: Everything You Need To Know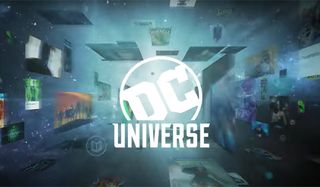 With the world of modern media quickly changing, there are currently a whole lot of different streaming services available to consumers -- and in a few months, we will all be able to get our hands on one of the most anticipated developing applications. I'm referring to the upcoming DC Universe, which is being developed by the people over at DC Comics and Warner Bros. as a special portal for all media related to the property. The app is expected to launch on an unannounced date this fall, but this past week we got an in-depth look at what to expect.
DC Universe set up a special activation at San Diego Comic-Con this past week, and as part of it I had the opportunity to demo the streaming service and see what's in store. Right up front I will admit to being very impressed with what I saw, and below and across the next few pages I will dig into the applications many features.
It Has Tons Of Movies
While there's no questioning that we are currently living in the golden age of comic book movies, the reality is that the people at DC Comics have been playing the Hollywood game for decades. Richard Donner's Superman: The Movie caused a phenomenon when it was released back in 1978, and while not every title has been amazing, it's a history that also brought us both the Tim Burton Batman films and Christopher Nolan's Dark Knight Trilogy.
Now all of those movies are going to be available in one place. It's even nice to note that the application isn't practicing any kind of revisionist history by leaving out any of the not-so-great stuff. If you've been patiently waiting to finally watch 1984's Supergirl, or are curious about revisiting 2011's Green Lantern, it will all be a part of the experience alongside winners like Wonder Woman and Watchmen.
The TV Library Is Deep -- With Some Exceptions
DC Comics' history adapting their properties for the small screen goes back even further than the theatrical history, and DC Universe will also be an amazing hub for all of that action. It's got audiences covered on both the live action and animated fronts, as you'll be able to go from watching the 1990s Flash series and Wonder Woman with Linda Carter, to your favorite episodes of Batman: The Animated Series and Justice League Unlimited. And even if you want to watch the terrifically terrible Birds of Prey it's there too.
There is an interesting catch when it comes to the TV library, though. Namely, the so-called Arrow-verse is a touch complicated. Shows like Arrow, The Flash, Legends of Tomorrow, Supergirl, and Black Lightning -- essentially all of The CW's superhero programming -- are all currently locked into a deal with Netflix for the foreseeable future. As a result, they will not be available on DC Universe when the application goes live.
It's Quickly Jumping Into The Original Content Game
The reason why Netflix, Hulu and Amazon are all the top of the streaming service food chain is because of their original content -- the exclusive material that audiences can't get on their thousands of cable channels. It's been firmly established as the name of the game for years now, and it's not a department where DC Universe is missing a beat. They're not just developing a few programs for the platform -- they have designed a full slate.
The original content on DC Universe will begin with the edgy, Gotham-set Titans -- which just released its first trailer this past weekend -- but that's just the first program. It's also been revealed that they are making a companion Doom Patrol series that will spin-off from the title, and producer James Wan is actively developing a new episodic treatment for Swamp Thing. There is also an adult-oriented Harley Quinn animated show that is in the works, and San Diego Comic-Con brought news of a Stargirl live-action series. Throw in a third season for the cancelled-too-soon Young Justice, and you have a foundation for a ton of exciting stuff in the future.
The Unique Factor: The Comics
There are plenty of streaming services that offer TV shows and movies; and there are even a select few, like Marvel Unlimited and Comixology, that offer audiences libraries of comic books. DC Universe, however, will be the first platform that provides all of the above in the same place. All eras of the books will be represented, as during my demonstration I looked at everything from Golden Age Superman, to Scott Snyder's brilliant Batman issues at the start of the New 52 era.
What's particularly great about this is that DC Universe should wind up being an amazing tool for superhero fans who aren't really sure exactly where to begin when it comes to the decades and decades of books. After watching Patty Jenkins' Wonder Woman, those interested in the source material will be able to find, for example George Perez's legendary run with the character, which was a heavy inspiration. There is even a picture-in-picture feature that allows you to watch movies and browse/read comics simultaneously.
They're Building A Community
From gatherings at the shops to online forums, comic book fans have long been passionate about discussing their favorite stories and characters with each other -- and DC Universe will do its part to try and recreate that experience. In addition to featuring news pages and collecting material for spotlight sections, users will be able to interact with the content and discuss it with other subscribers.
The picture-in-picture functionality mentioned above when simultaneously watching movies/TV and reading comics can also be used for DC Universe's message boards, allowing you to both absorb and engage. What's more, because you can have it operating on multiple devices simultaneously, you'll also be able to create your own special second screen experiences.
It Will Be On Many Devices At The Start, And More Are Developing
Packed with movies, TV shows, and comics, DC Universe should be a great application for both when you're on the go and at home -- and the devices on which it will be available at the start definitely reflect that. In the case of when you're traveling -- be it commuting or on vacation -- subscribers will be able to access the app on both Apple and Android devices, including both phones and tablets. However, when you're on the sofa and want to watch on the biggest screen you have, all you have to do is boot up your Roku, Amazon Fire TV, Apple TV, or Android TV and you'll find a portal.
Of course, this is just the start. It's not hard to imagine a desire on DC's part to make the application available on as many devices as possible, so audiences wanting it for a non-available platform may just need to exercise some patience. Surely fans will want to eventually get DC Universe on their Xbox or Playstation, and while that won't be an option at the start, they may get there eventually.
It's One Of The Least Expensive Streaming Services
In the grand scheme of things, DC Universe content is ultimately limited to... well, DC Content. It will never have the same number of shows and movies as Netflix or Hulu because there simply aren't that many adaptations. Fortunately, this is evened out by the streaming service having a very reasonable price, and two different payment plans.
If you pre-order DC Universe now, you pay a total of $74.99, but that gets you a full-year's subscription, plus a bonus three months free. That option will still be available when the streaming service goes live, but it won't be the only choice. If you're not entirely sure that you will use the application for 12 months, you can begin a month-to-month subscription that will cost you $7.99 every 30 days (the same as the starting price for both Netflix and Hulu). If you are willing to make the commitment, it's a saving of 20 percent annually.
The DC Universe streaming service doesn't currently have a set-in-stone release date, but stay tuned here on CinemaBlend for the latest updates.
Your Daily Blend of Entertainment News
Assistant Managing Editor
NJ native who calls LA home and lives in a Dreamatorium. A decade-plus CinemaBlend veteran who is endlessly enthusiastic about the career he's dreamt of since seventh grade.
Your Daily Blend of Entertainment News
Thank you for signing up to CinemaBlend. You will receive a verification email shortly.
There was a problem. Please refresh the page and try again.