We Know What Titans, Harley Quinn And More DC Universe Shows Will Be About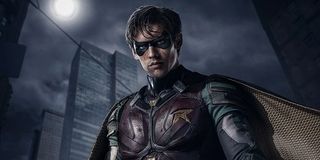 DC has dropped a truckload of details regarding its upcoming streaming service DC Universe, and with it comes lots of information about all of their planned original shows. We now know what Titans, Harley Quinn, Swamp Thing, Young Justice: Outsiders and Doom Patrol will be about, and it all sounds exciting for superhero show lovers and DC fans alike. That's especially true in the case of Titans, which appears to put yet another twist on the iconic Teen Titans franchise:
Titans' synopsis essentially means the new series is going to be a gritty origin story of how the show's heroes first form a team. The news that the show kicks off with Robin and Raven trying to prevent "hell on earth" would appear to confirm the rumors Season 1 will involve the villain Trigon, who is also the father of Raven. The group will pick up Starfire and Beast Boy along the way and, as the synopsis stated, they'll stick together to form the beloved superhero lineup (minus Cyborg) we've all wanted to see in live-action for some time.
DC Universe also gave an update on the character fans have been wanting to see more of any way they can: Harley Quinn. The character's self-titled animated series geared towards adults will find Harley at a time in her life where she and Joker are on the rocks, but she's far from the soppy mopey mess we've seen in the past. In fact, the villainess has got some ambition in her upcoming series to snag one of the highest honors any DC villain could have:
DC fans have loved Poison Ivy and Harley team-ups in the past, so Harley Quinn has likely already roped some folks in. Leaks regarding the series have stated that Joker will be present in the series at some point, as well as other villains like Doctor Psycho and Clayface who sound like the last villains one would want in a comedy. That said, it certainly sounds exciting for its potential to shed a spotlight on lesser celebrated characters, which is something one could say about DC Universe's other upcoming live-action series Doom Patrol:
Doom Patrol certainly sounds like the weirdest live-action DC series fans have seen to date, which may not be a bad thing. Additionally, the fact that Cyborg is name-checked in this series and not mentioned in Titans opens up the speculation that DC Universe has its sights set on potential crossovers between the live-action shows, although it's not as though a variation of the Teen Titans hasn't existed without Victor Stone. If not, surely there will be plenty of fun to be had without crossovers in Doom Patrol, which by far has to be the most surprising live-action adaptation DC has done yet.
Head to the next page to check out the breakdowns for Young Justice: Outsiders and Swamp Thing.
Young Justice is finally heading back to television with Young Justice: Outsiders, and the team looks as good as it ever has in our first look at the budding superheroes. Fans currently freaking out because they don't see their favorite hero in the above picture needn't worry, as the show's description ensures Season 3 will introduce more heroes than what is shown above:
The synopsis for Young Justice: Outsiders didn't tip its hand and reveal exactly which characters would be new to the franchise, although it's been previously announced the show is gaining Arrowette, Spoiler, and Thirteen as heroes. Those three will help the existing team battle meta trafficking and apparently take on aliens as well. The team is in the midst of an intergalactic arms race. Meanwhile, Swamp Thing sounds to be keeping its story a bit more grounded in the literal sense, although things sound just as weird, if not weirder than anything happening in Doom Patrol:
Swamp Thing's synopsis has confirmed things are about to get spooky in the DC Universe show. The synopsis is surprisingly absent of the show's title character, although it's probably more entertaining to follow Abby Arcane, considering she's normal enough to venture out in public without people doing a double-take. Historically, Abby is the love-interest of Swamp Thing, so fans shouldn't be surprised if this paranormal adventure has a twist of romance in it as well.
DC Universe is expected to arrive in 2019, although those interested can currently register for beta access and get a test version of the platform in August. For a look at other upcoming superhero shows, visit our superhero premiere guide. Those looking for good summer television can visit our summer premiere guide.
Mick likes good television, but also reality television. He grew up on Star Wars, DC, Marvel, and pro wrestling and loves to discuss and dissect most of it. He's been writing online for over a decade and never dreamed he'd be in the position he is today.
Your Daily Blend of Entertainment News
Thank you for signing up to CinemaBlend. You will receive a verification email shortly.
There was a problem. Please refresh the page and try again.