Avengers 4 Fan Art Reimagines The Shawarma Scene With Surviving Heroes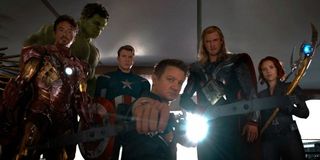 The Marvel Cinematic Universe has produced several notable post-credits scenes over the years, but the shawarma scene from The Avengers continues to stand out as one of the best. Decidedly unimportant from a narrative perspective, the sequence captured the irreverence of the MCU and hammered home the idea that these heroes just like to hang out together. And with half of the heroes gone in the wake of Avengers: Infinity War, a piece of Avengers 4 fan art has hit the web reimagining that sequence with the modified Marvel roster. Check it out, below!
Looks like something that we could hang up in a museum, doesn't it? As you can see, that image is equal parts The Last Supper and the shawarma scene from The Avengers, showcasing our heroes coping with the fallout of their recent battle against The Mad Titan. Everyone looks pretty solemn, with Steve Rodgers, Tony Stark, Natasha Romanoff, and several others drowning their sorrows with some meat.
However, that photo reimagining the shawarma scene doesn't just include characters shown to survive the Thanos snap in Avengers: Infinity War. It also features Paul Rudd's Scott Lang (who survived the snap in Ant-Man and The Wasp and is now trapped in the Quantum Realm), Jeremy Renner's Hawkeye, and Brie Larson's Captain Marvel. With that in mind, in addition to serving as a view of the Infinity War fallout, this image also offers a speculative glimpse at Avengers 4's overall ensemble.
If you want a closer look at the actual shawarma scene, then you can check it out, below!
One also has to wonder if we could actually see the shawarma scene return and play a more substantive role in the MCU as Phase 3 builds to its conclusion. Many rumors associated with Avengers 4 have suggested that the MCU could finally incorporate full-blown time travel into the narrative, allowing some of the surviving Marvel heroes to travel throughout different areas of the MCU timeline. If that does truly happen (and it seems increasingly likely, based on context clues that have popped up in recent movies), then one has to wonder if we may get a closer look at this beloved sequence while we say goodbye to an era of Marvel movies.
CinemaBlend will bring you more information related to the Marvel Cinematic Universe as new details about the film are made available to us. If you want to see the culmination of Phase 3 and the Infinity Stone story arc, then watch out for Avengers 4 when it debuts next year on May 3, 2019. Until then, head over to our movie premiere guide to read up on all of the remaining major films on the horizon for 2018!
Originally from Connecticut, Conner grew up in San Diego and graduated from Chapman University in 2014. He now lives in Los Angeles working in and around the entertainment industry and can mostly be found binging horror movies and chugging coffee.
Your Daily Blend of Entertainment News
Thank you for signing up to CinemaBlend. You will receive a verification email shortly.
There was a problem. Please refresh the page and try again.