Jude Law Thinks The World Is Ready For A Gay Children's Icon Like Dumbledore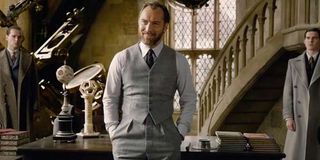 This weekend, Jude Law stars in Fantastic Beasts: The Crimes of Grindelwald. It's a big role, not only because he is joining a huge franchise with a large fanbase, but also because he is playing an iconic character within that franchise: Albus Dumbledore. Now, Jude Law has revealed he thinks the world should be ready for Albus Dumbledore's sexuality to play a role in the story. He told the NY Times in a wide-ranging interview that the world should be ready for a gay children's icon, vividly noting,
J.K. Rowling's beloved series of Harry Potter books featured a lot about Albus Dumbledore. However, the nitty gritty of the text never explicitly mentioned Dumbledore's sexual preferences. Then, a little over a decade ago, J.K. Rowling confirmed that Albus Dumbledore was gay and had a relationship with Gellert Grindelwald early on in his history. The news was met with surprise in 2007, but has eventually become canon for the character who should be key to the Fantastic Beasts movie franchise in the future. Now that a new set of movies is coming out based on J.K. Rowling's creative works, more of Albus Dumbledore's past is being explored.
Although we've known for years that Albus Dumbledore is a gay man, we've known for a while that Fantastic Beasts: The Crimes of Grindelwald would mostly be set in the aftermath of the two men's initial romance and would not focus heavily on the good parts of their relationship before they reached a breaking point. Speaking with the New York Times, Jude Law also explained a bit more about his version of the character on the big screen and why his former relationship is only a minor facet of Albus Dumbledore.
Jude Law's comments echo what David Yates has said about the character in previous interviews, noting that Dumbledore would be a gay character in the movies just like the books, but that wasn't what the main ensemble story--which also features characters like Newt Scamander, Leta Lestrange, Nagini and Credence Barebone--largely focuses on.
Prior to filming Fantastic Beasts: The Crimes of Grindelwald, Jude Law was even able to work with J.K. Rowling herself to talk about the key facets making up Albus Dumbledore. He had the whole backstory going in and was able to create a version of the character for the big screen that matched the author's ideas about her beloved character.
One thing that is a little different about the Fantastic Beasts franchise is that it is a spinoff of another franchise that already produced a slew of beloved movies. In some ways, this is great because it means that Fantastic Beasts: The Crimes of Grindelwald already has built-in backstory and can nod at things like (but not limited to) The Whomping Willow or the Mirror of Erised that show up in Harry Potter's world. In other ways that means that characters like Albus Dumbledore are limited in some facets to what kind of person they were in Harry Potter's world. Jude Law especially has to find a balance between playing his version of the character and still paying homage to what Michael Gambon and Richard Harris did on the big screen.
As for the whole component of Dumbledore's sexuality, people have a lot of different thoughts regarding Albus Dumbledore and the sexual preferences that J.K. Rowling wrote in for the character. Some have stated online that they feel like J.K. Rowling hasn't done enough to assert Albus Dumbledore's sexuality and some feel as if the prominent author has gone too far when including a gay plotline retroactively into the story. Some are perfectly happy with how the storyline is panning out. There's been a lot of chatter on the subject, at least, and Ezra Miller previously spoke out about the myriad thoughts people have had online, bluntly telling people to "wait until you see the film" before you make a rash judgment regarding Albus Dumbledore or Jude Law's performance. He said at the time:
If you've caught Fantastic Beasts: The Crimes of Grindelwald in theaters this weekend, then you already know whether or not Jude Law's performance gets a passing grade. If not, the movie will most certainly be out this Thanksgiving weekend and will still be in theaters as we approach the Christmas season. For a full overview on what you need to remember, we have you covered. In addition, if you want to find out what Fantastic Beasts' big competitors are, take a look at our full movie schedule.
Your Daily Blend of Entertainment News
Reality TV fan with a pinch of Disney fairy dust thrown in. Theme park junkie. If you've created a rom-com I've probably watched it.
Your Daily Blend of Entertainment News
Thank you for signing up to CinemaBlend. You will receive a verification email shortly.
There was a problem. Please refresh the page and try again.