Fantastic Beasts 2 Will Address Dumbledore's Sexuality After All, According To The Director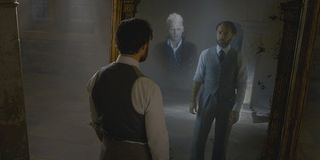 If you had Fantastic Beasts 2 in your 'What 2018 movie will be a surprising source of controversy?' pool, you're doing quite well for yourself. The second film in the Harry Potter spinoff series has received a fair bit of backlash even though it doesn't even come out for another month. Some of that backlash springs from the film's approach to Dumbledore's sexuality. Earlier this year, director David Yates said that the film would not explicitly address the fact that Dumbledore is gay, leading to a belief among some that this aspect of the character's identity and an opportunity for that kind of positive representation was being brushed over. David Yates has now clarified that point, affirming that the film will address Dumbledore's sexuality, as he explained:
David Yates makes it clear here that he never said that Dumbledore wasn't gay, and his story in Fantastic Beasts: The Crimes of Grindelwald isn't an instance of making him straight or ignoring/hiding that aspect of the character. It just sounds like there won't be some flashing magical banner that says he is gay, but it will be very obvious to anyone who sees the film that Dumbledore is gay. There will be some scenes that he shares with Grindelwald, and when you see them, the reality of the character's sexuality will be undeniable.
The other thing that stands out to me about what David Yates told Empire Magazine is that "This part" of J.K. Rowling's story does not focus on Dumbledore's sexuality. As he says, this is a huge narrative, and The Crimes of Grindelwald is only the second film in a five-film series. Just because this film may not really focus on Dumbledore's sexuality does not mean that none of the other three upcoming films will. Heck, Dumbledore wasn't even in Fantastic Beasts and Where to Find Them. Maybe the Dumbledore-Grindelwald relationship plays out over multiple films. Dumbledore could just be crushing from afar right now; we don't know till we see it.
The obvious problems of backlash against a film before anyone's seen it aside, we don't yet know what happens in Fantastic Beasts 2. Maybe Dumbledore isn't out yet or maybe he is still coming to terms with his sexuality. The Wizarding World isn't the most enlightened place during the Harry Potter story, with students shouting racial slurs like 'Mudblood' in school halls and Death Eaters palling around with Ministry of Magic officials. So who knows what this world was like in 1927 when the film takes place.
In truth, if you are familiar with the Harry Potter universe and its magical objects, Dumbledore's sexuality is even apparent from the trailers for Fantastic Beasts: The Crimes of Grindelwald. We see Dumbledore staring in the Mirror of Erised, which, by his own words in the Harry Potter and the Sorcerer's Stone novel, "shows us nothing more or less than the deepest, most desperate desire of our hearts." For Dumbledore in this film, that is Johnny Depp's Gellert Grindelwald.
Fantastic Beasts: The Crimes of Grindelwald arrives at Platform 9 3/4 and in theaters on November 16. For all of this fall's biggest movies, check out our release schedule.
Your Daily Blend of Entertainment News
Nick grew up in Maryland has degrees in Film Studies and Communications. His life goal is to walk the earth, meet people and get into adventures. He's also still looking for The Adventures of Pete and Pete season 3 on DVD if anyone has a lead.