Shazam's Editor Reveals The Scene That Was The Toughest To Get Right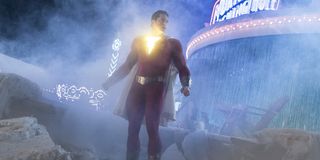 Warning: SPOILERS for Shazam! are ahead!
As one expects from a superhero movie, Shazam! was packed with a lot of action-packed moments, all of which came with their own unique challenges to pull off. As a result, just because a scene or sequence was envisioned in a particular way on script or while shooting doesn't mean it came together looking exactly like that when finally assembled.
One of those sequences was the final battle between the eponymous protagonist and the Seven Deadly Sins-powered Doctor Sivana, which led to Billy sharing his power with his adoptive siblings so they too could become adult superheroes. I learned this when I recently spoke with the editor of Shazam!, Michel Aller, as this was her response when I asked what scenes changed the most from how they were initially shot to how they were edited together:
There's definitely a lot going on in that final Shazam! battle. It would be one thing if it had just been a straightforward fight between Shazam and Sivana, but not only did Mary, Freddy, Eugene, Darla and Pedro joining the fray widen the scope, but there was also the fact that the Seven Deadly Sins were able to separate from Sivana and go their own ways. So there were numerous things to keep track of within that carnival battleground.
As a result, not only was the final Shazam! battle the sequence that evolved the most during the editing phase, it was also the hardest one to cut together. In Michel Aller's words:
Even with all those moving pieces to track, ultimately the battle culminated with the showdown between Shazam and Sivana, adversaries that have been fighting on the printed page and in other media for eight decades. Remembering that main antagonist loses his powers if all of the Sins are out of his body, the superpowered Billy Batson managed to goad Envy out of Sivana, leaving the chrome-domed baddy helpless. Upon taking the Eye of Sin from Sivana, Billy imprisoned all of the Sins back within it, and the Shazam family redeposited the artifact back at the Rock of Eternity.
While this sequence had to go into the Shazam! final cut no matter what, there were 20-24 minutes of scenes that were taken out. However, Michel Aller expects you'll be able to watch most of these when Shazam! comes out on Blu-ray and DVD later this year, with some of these excised scenes possibly including one where Mary confronts Billy as he's sneaking out of the Vasquez house and the original version of Sivana's murder spree. For now, catch Shazam! in theaters while you can, as the next DCEU movie isn't coming out until next February (although Joker is holding down the overall DC fort in October).
Be sure to read CinemaBlend's review of Shazam! and stay tuned for updates on how Shazam! 2 is coming along. Those of you interested in learning what other DC movies are in development can find that information in our handy guide, or you can look through our 2019 release schedule to plan when you'll be going to the movie theater later this year.
Your Daily Blend of Entertainment News
Connoisseur of Marvel, DC, Star Wars, John Wick, MonsterVerse and Doctor Who lore. He's aware he looks like Harry Potter and Clark Kent.