Will Spider-Man: Into The Spider-Verse Ever Connect To Tom Holland's Marvel Timeline?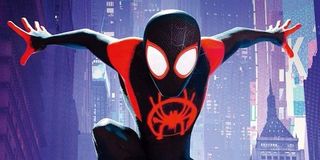 (Image credit: Sony)
Everybody has a favorite cinematic Spider-Man. Some prefer Tom Holland's younger take on Peter Parker in the Marvel Cinematic Universe, others think that Tobey Maguire does not get enough credit for igniting the modern day wave of superhero films in the early 2000s, and there are certainly some folks who thought that John Mulaney's Spider-Ham stole the show in 2018's Spider-Man: Into the Spider-Verse.
You can't seem to please everyone with your interpretation of a widely beloved comic book property, but the beauty of securing distribution rights of a character is the ability to reboot your franchise with new writers, new directors and a new cast, as if you are creating a whole new universe. However, does the creation of a new Spider-Man timeline necessarily mean an official goodbye to the cinematic Peter Parkers of yesterday?
Such a topic was ignited recently following an interview between the cast of Spider-Man: Far From Home and reporter Jake Hamilton. In the video, Hamilton asks Tom Holland, Jacob Batalon, and Zendaya a question inspired by last year's Academy Award-winning animated hit Spider-Man: Into the Spider-Verse, which gets a very alarming reaction out of Holland. After, perhaps jokingly, making an expression that suggests he knows something he shouldn't publicly reveal, Holland said:
Coincidentally, prior to Jake Hamilton's question regarding potential for a Tom Holland/Tobey McGuire/Andrew Garfield crossover, he and the cast were discussing Tom Holland's tendency to prematurely reveal certain plot details in the past. Thus, fans could not help but wonder, Is there something that he knows that we don't?
On top of that, the following tweet from the official Twitter account of Spider-Man: Into the Spider-Verse became a source of speculation back in May:
Now, what could that be? An official follow-up to Spider-Man: Into the Spider-Verse? A tease to a Spider-Gwen spinoff with Hailee Steinfeld? Or, something even grander than that?
Based on these "revelations," fans have been theorizing the possibility that the multiverse concept shown off in Spider-Man: Into the Spider-Verse and the reveal that Jake Gyllenhaal's Mysterio is, supposedly, a being from an alternate reality in Spider-Man: Far From Home could be key to an interdimensional crossover between the Marvel Cinematic Universe and separate cinematic timelines that have incorporated the Web-Slinger. In other words, imagine Tom Holland, Tobey Maguire and Andrew Garfield as Peter Parker all in the same movie.
In a conversation with ScreenRant, Spider-Man: Far From Home producer Amy Pascal commented on how closely Sony's Spider-Man spin-offs relate to Tom Holland's MCU timeline, saying:
"The possibilities are endless," eh? Well, that certainly does not sound like a denial.
While we cannot say that Tom Holland definitively teased a real crossover event between Tobey Maguire's Spider-Man trilogy and Andrew Garfield's 2012 and 2014 The Amazing Spider-Man films, or a crossover between the MCU and Spider-Man: Into the Spider-Verse, or even both in the same project, it is not without its potential. Holland certainly sounds interested and it would not be the first time fans have asked to see Maguire join the MCU.
I could, at least, see a post-credits scene in the recently confirmed sequel to Spider-Man: Into the Spider-Verse that sees Miles Morales (voiced by Shameik Moore) falling into Wilson Fisk's (Liev Schreiber) multidimensional collider, transporting him into a New York City that appears vastly unfamiliar to him and far less animated. He webs his way through Queens, seeking some resemblance to home, until concluding that he his far from it.
Suddenly, Miles' Spider-Sense tingles, alerting him that he is about to collide with another person in midair. How could this be? No one else should be up there but Spider-Man.
Alas, he swings right into the direction of a man in red and blue tights, sending them both falling onto the roof of the building directly beneath them. Miles and the mystery Web-Slinger exchange confused looks, hidden beneath their masks, until the red-and-blue-clad one removes his mask to reveal the face of Tobey Maguire. Cut to black.
Of course, this would incite incessant fan speculation, which would lead to strong anticipation and the inevitable announcement of the epic Spider-Man crossover event that sees Miles Morales and Tobey Maguire's Peter Parker struggling to get return Miles to his world, but incidentally falling into the MCU timeline, where they cross paths with Tom Holland, and then receive an unexpected visit from Andrew Garfield, who has been transported into the MCU timeline mysteriously. Now, these four Spider-Men must team up to discover why they have been brought together, all the while battling the completed assembly of the Sinister Six.
There would, of course, be plenty of self-referential quips, self-reflective discussions whilst sitting on a giant web, a few moments of waterworks (especially from Andrew Garfield) and much of Tom Holland's signature reactionary bewilderment to his new team of Web-Heads. If this sounds better as a cartoon (just like they did with Spider-Man: Into the Spider-Verse), the film could easily incorporate cartoonish, physical comedy melded with comic book action, as is the signature style of the perfect director for this project, Sam Raimi.
There are few characters in Marvel's comic book universe as popular and as versatile as Spider-Man, especially with how many different iterations there have been on screen or in ink. Thus, the creative potential behind an idea like this is astounding.
Tom Holland himself said he would love to do a movie with both Tobey Maguire and Andrew Garfield, Tobey Maguire has said he would be open to another superhero role and he already knows how to play Spidey, and I imagine that no one would love to put the red and blues back on more than Andrew Garfield. Not to mention, Spider-Man fans would gush over it like Peter Parker and Mary Jane.
While Amy Pascal has said that the possibilities with Spider-Man are endless, by the time Sony and Marvel feel such an event is ready, it may be too late, but that is no reason to lose hope so soon. That is what Spider-Man is about after all: taking leaps of faith.
Until then, the closest thing we have to such an event is this:
Stay tuned to CinemaBlend for all the latest updates about Spider-Man. The Web-Slinger returns to the big screen in Spider-Man: Far From Home on July 2.
This poll is no longer available.
Your Daily Blend of Entertainment News
Jason has been writing since he was able to pick up a washable marker, with which he wrote his debut illustrated children's story, later transitioning to a short-lived comic book series and (very) amateur filmmaking before finally settling on pursuing a career in writing about movies in lieu of making them. Look for his name in just about any article related to Batman.