Avengers: Endgame Deleted Scene Reveals Emotional Tribute To Tony Stark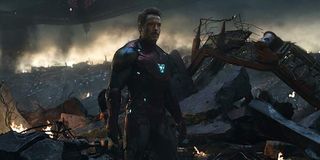 Back in The Avengers, Steve Rogers accused Tony Stark of not being the kind of guy who would make the sacrifice play. Years later, Tony proved just the opposite, as he harnessed the power of the Infinity Stones to wipe out Thanos and his forces in Avengers: Endgame, which cost him his life.
Tony Stark's death was one of Avengers: Endgame's most heartbreaking moments, but as it turns out, it could have been even more emotional. The deleted Endgame scene below shows many of Iron Man's comrades honoring him after he took his last breath.
In Avengers: Endgame's theatrical cut, we see Pepper Potts, War Machine and Spider-Man crying after Tony Stark died, as well as Thor and Captain America looking sullen nearby. But in this deleted scene, Clint Barton (now going by Ronin) gets down on one knee and bows his head to honor his fellow founding Avenger, and Black Panther, Captain Marvel and all the other nearby heroes follow suit.
The lone holdout of those shown is Gamora, who instead decides to exit stage left. This makes sense, as she had no idea who Tony Stark was, and while she probably saw what a mighty hero he was during the battle against Thanos, she has no emotional connection to him.
Let's also not forget that this Gamora isn't the original that we followed across three previous Marvel movies, but the one from 2014, who also doesn't have any history with the Guardians of the Galaxy. While directors Joe and Anthony Russo initially played coy about her fate, it was assumed she was still alive, and this scene reaffirms that. We'll reunite with Gamora whenever Guardians of the Galaxy Vol. 3 rolls around.
As for why this Avengers: Endgame scene didn't make the cut, Joe Russo told USA Today (opens in new tab) that because the funeral scene was later shot, it was decided that was the better Tony Stark tribute to feature. In Russo's words:
Tony Stark's funeral was certainly packed with more familiar faces, from the names mentioned above (aside from Gamora) to supporting characters like May Parker and Hank Pym to even Harley Keener, that kid we hadn't seen since Iron Man 3. The funeral served as a great sendoff to the hero who kicked off the MCU back in 2008 and whose influence will still be felt for years to come in the franchise.
Of course, I'd be remiss if I didn't mention the other major casualty in Avengers: Endgame: Natasha Romanoff, a.k.a. Black Widow. She sacrificed herself on Vormir so that Clint Barton could obtain the Soul Stone, though Clint tried his best to ensure that he was the one who died. While Natasha is with us no more, next year's Black Widow movie is turning back the clock to show audiences one of her earlier adventures.
Let's also not forget Steve Rogers, who didn't die in Avengers: Endgame, but whose time as Captain America is over. After Tony Stark's funeral, Steve went back in time to return the Infinity Stones and Thor's hammer to their proper time periods, but rather than return to the present, he stayed in the past to be with Peggy Carter. The now-elderly Steve then passed on the Captain America mantle to Sam Wilson, a.k.a. The Falcon.
Avengers: Endgame arrives on Digital HD next Tuesday, July 30, and the Blu-ray and DVD copies will follow on August 13. For those of you already looking to the future of the MCU, find out what's coming up in our Marvel movies guide.
Your Daily Blend of Entertainment News
Connoisseur of Marvel, DC, Star Wars, John Wick, MonsterVerse and Doctor Who lore. He's aware he looks like Harry Potter and Clark Kent.
Your Daily Blend of Entertainment News
Thank you for signing up to CinemaBlend. You will receive a verification email shortly.
There was a problem. Please refresh the page and try again.